How do you develop an ongoing hiring strategy?
Published: 10.01.12
By J. Allan McCarthy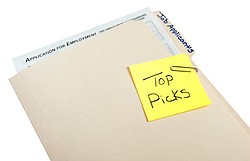 A number of government programs have been implemented to provide incentives for employers to hire veterans, and special incentives are available for employers who hire disabled veterans. Is this something …
Published: 09.01.12
By Mike Coyne
Tips to finding and hiring the right professional website developer.
Published: 09.01.12
By Joe Thomas
Here are six ways to improve your hiring skills. Yes they will slow you down, but that's better than going fast and making a hiring mistake.
Published: 08.01.12