If growing your marketing has been hit-or-miss for your business, you'll want to read this.
I'm focusing on ONE easy-to-implement direct mail "hack" that, when used consistently, will generate leads and a growing bottom line for your business.
And this isn't just general advice. It's been PROVEN, and below is the proof for you to do with it as you will.
I found three successful HVACR marketing campaigns that use this hack to generate REAL revenue for REAL businesses like yours. Such as: 322 jobs and $258,040 in revenue.
So what is it?
Tune Your Marketing to the Season
No one knows better than you that the needs of your prospects change with the seasons.
Most customers don't exactly have a reminder set months in advance to get a seasonal tune-up. That's why you have to remind them that they need your services. And that reminder should be timely. You want your postcard to be the first one customers receive and say, "Oh yeah, I should really get the _______ serviced."
By the way: recipients may get other postcards from your competitors.
But there are two ways you can ensure they call YOU:
1. By being more trustworthy/familiar to them (usually with more frequent and regular marketing).
2. By offering them a good initial offer.
Some business owners cringe at No. 2 because it "devalues" their services. But that isn't the case — instead, you're giving smart consumers a reason to choose you and let you earn their business for years to come.
Let's take a look at three well-timed direct mail campaigns that used smart offers to their advantage.
1. Monthly Mailings from April to June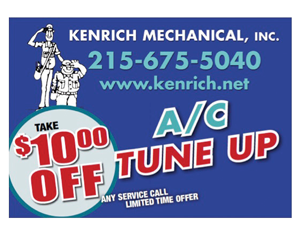 Mailing list: Customer list of 5,000
Marketing schedule: 4 monthly mailings April-June
Special offers (3): $10 off tune-up, $25 off any service agreement, $50 off any air cleaner
Results: 155 responses and $12,000 in immediate revenue
This company didn't mail as often as the first, but the revenue they generated could have paid for 10 of these campaigns.
2. Big Drop Right Before the Season Starts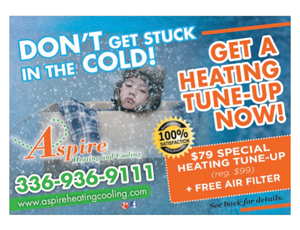 Mailing list: Single family customers in select zip codes, household incomes of $50,000+, year of home built prior to 2009
Marketing schedule: 6,000 postcards mailed 1X
Special offers (1): $79 special heating tune-up + FREE air filter
Results: 13 calls and $10,000 in 2 weeks
If you're only going to mail once (and I don't recommend that you do), make sure you do it with strong image and a great offer, like the one above.
3. Four Mailings Right Before Winter & Summer
Mailing list: Customer list of 6,000
Marketing schedule: 4 mailings right before winter season, and 4 mailings before summer
Special offers (5): $89 furnace/boiler tune-up, whole-house duct cleaning for $225, $50 off any repair service call, $89 dryer vent cleaning, $300 off any furnace/boiler installation
Results: 322 jobs and $258,040 in revenue. This campaign was a huge success for three big reasons: 1.) Repetition — 4 mailings! 2.) Timing — right before the season starts 3.) Offers — they are good and plentiful
Want to make this upcoming season better than the last? Then pour coals on your promotion beforehand to heat up interest, and incorporate 2-5 special offers to entice calls, leads, and new sales! You don't have to take my word for it though — I just showed you the proof.