I combed through our results database and handpicked four HVACR case studies that ALL have one simple marketing tactic in common. My company, PostcardMania, tracks campaigns from our own clientele in order to share winning strategies with other business owners. You don't have to be a client of mine to access this data either — it's available to everyone.
Plus:
This marketing gold nugget is EASY to replicate
You already have it in hand (but maybe you haven't used it yet)
It's generated other HVACR businesses 250 jobs
And $12,000–$30,000 in extra sales
But I'm not just going to tell you what to do — I'm going to SHOW you real results from four of my clients that illustrate how you can plan a marketing campaign that generates jobs and revenue for your HVACR business.
1. 250 Jobs from Mailing 5X
One of my clients wanted to increase jobs (and sales), so they tapped into their current customer list. They designed an attention-grabbing, yellow service reminder postcard and mailed it to their customer list five months in a row.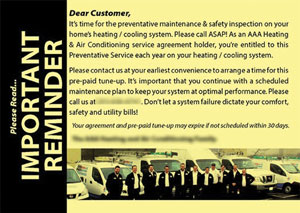 Mailing List: Customers
Mailing Schedule: 5 months in a row
Results: 250 new jobs
I love that they included a picture of their team. This builds trust and affinity for your business, because people like to know who they're inviting into their homes.
This simple service reminder card generated 250 jobs and a 2,655 percent return on investment. This HVACR business now mail postcards as a tried-and-true marketing strategy to regularly remind customers when it's time for service.
2. $15,950 in Sales
Your customers probably don't know when their HVAC systems need servicing (or which services they do need), so it's important your campaign is well-timed. One of my clients included not one but three special offer coupons on their service reminder postcards to entice customers to call in and save some money.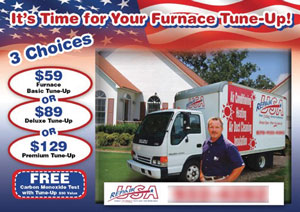 Mailing List: Customers
Mailing Schedule: 1,385 cards mailed one time
Results: 154 responses and $15,950 in revenue — plus, two referrals came from those 154 responses that resulted in another $11,600 from two new system installs
This campaign cost just $850 — that's a 1,776 percent return on investment (ROI). When you include the revenue generated from the campaign's referrals, that's a $3,141 ROI.
3. $30,000 In Sales
Mailing season-specific postcards to your customer base, with a money-saving deal, entices them to call you… like this cheeky example one of my clients mailed.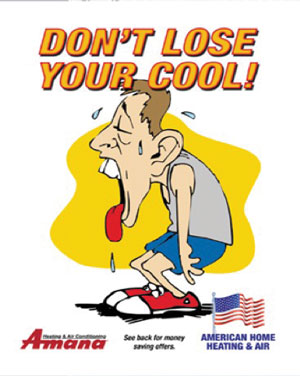 Mailing List: Customers
Mailing Schedule: 4,000 cards mailed 2x
Results: Approximately $30,000 in revenue
This client mailed the above design before the hot summer months hit, and they mailed a winter-themed design before the cold months. Two mailings to their 4,000 customers before each respective season resulted in over $30,000 in revenue for their business that year.
If they hadn't hit their customer list with well-timed postcard mailings, they would've just waited and hoped and prayed for calls to their office… NOT a proactive business strategy.
4. $15,000 In Sales
This HVACR business mailed two times over the course of one year their client base. As a result, they reactivated 120 customers for service and generated $15,000 in sales ... again, just by mailing to their current customers.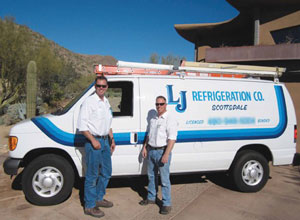 Mailing List: 3,500 customers and 2,500 single family homeowners in a specific location
Mailing Schedule: 6,000 cards mailed 2x
Results: Over $15,000 in revenue
This personable postcard design — a big portrait of LJ's staff reminded customers that they are friendly professionals ready to help with their HVAC service … a design strategy that clearly worked considering their marketing turned out a 556 percent return on investment.
So, did you spot the common factor?
These HVACR business ALL advertised their services to their existing customer base.
Your customer database is filled with consumers in need of your services at least twice a year — and you already have a head start because they know you and have trusted you before.
Whatever you do, don't ignore your current customers. Ensure your business has a marketing strategy in place to regularly reach out to them, and you'll create an easy and ongoing revenue stream.
Editor's Note: Want to check out more HVACR campaigns that have worked for my other clients? Head on over to PostcardMania.com/HVACR to request FREE samples.