Take your service to the next level and turn even the most demanding customers into loyal fans.
A lot has been written about the importance of good customer service and for good reason. Good customer service is the basis for a sound business relationship and helps customers feel good about doing business with us.
But the landscape is changing. Good customer service, while once the basis of competitive advantage, has become increasingly a necessary condition for doing business — particularly within mature industries such as HVACR.
If, as service providers, you're not consistently delivering good customer service, you'll soon be out of business. And, since your customers' expectations continue to rise, you must continually improve.
But good customer service is no longer enough for a service company to grow and thrive. Forward thinking service companies recognize that today's customer is demanding more than simply the good feelings about their service provider that good customer service creates.
These service companies understand that most customers want to see tangible improvements from their service relationships. Today's customers want to know that their relationship with their service provider has been instrumental in helping them become measurably better off.
That means that simply maintaining equipment to the best of our ability does not cut it any more — even if our technicians are polite, well mannered and appropriately attired.
Today's customer wants all that of course, but they also want a service company that will proactively look for ways to help them improve. Whether it is increased comfort, reduced energy consumption, improved air quality or greater security, etc., our customers are coming to expect that we will continually be on the lookout for ways that we can help.
If you're not taking these proactive steps, then your business is at risk, regardless of the quality of your relationships.
What can you do to ensure you deliver more than simply good customer service? Here are five areas to consider.
Discuss Your Approach with Your Customers
If you decide to take a more proactive approach in identifying and discussing ideas for improvement for your customers — particularly if it is not something you have done in the past — you may wish to discuss your intention with your customers and get their "permission."
One way you can do this is to explain that you have encouraged your team to proactively look for ways to help them and why this approach adds value to your relationship.
You can then simply ask, "If our people identify any opportunities that they feel will help you be better off, would you have any objection if they bring that opportunity to your attention?"
Engage Your Technicians
Making recommendations that can help your customers be better off, requires a knowledge of the latest in HVACR technology, your firm's capabilities, an understanding of your customers' challenges and needs and ideally a relationship with your customers based on trust.
Typically, your technician checks all of these boxes. Who would be better, therefore, than your technicians to have proactive conversations with your customers of what more they can be doing to help them achieve their goals?
To be successful, the first thing is to engage your technicians in having these proactive conversations.
The challenge is to ensure that your technicians recognize that when they make recommendations, they are providing an important service.
You're not asking them to sell, you are simply asking them to use their expertise to help their customers beyond simply installing, maintaining or troubleshooting equipment.
Ensure Your Processes Supports the Technicians
Many service firms have attempted to engage their technicians in business development, only to fall short because the systems and processes that were employed to capture, track and respond to opportunities were left wanting.
Too many companies admit they don't always follow up on opportunities generated from the field in a timely way. In fact, in some cases, the opportunities do not get followed up at all.
The process and systems in place for capturing opportunities from the field must be foolproof so that 100 percent of the opportunities arising from the field get followed up and the status of those inquiries communicated back to the service team.
Proactive Approach Brings Great Value
When you deliver a high level of service consistently over time, you run the risk of the customer taking it for granted. They begin to assume that everyone provides the levels of service that you are providing and they discount the value in the proactive approach you are taking.
If you've ever lost a service contract to a competitor only to win it back the following year with the customer exclaiming "Am I ever glad that you're back!" then there is a good chance that the customer took your service for granted.
A great way of overcoming this problem is to have regular communication with your customer about the value that you bring. It may be a formal meeting with the customer where you discuss the recommendations made and the actions taken as well as the results in terms of improved efficiencies, air quality, etc.
This also provides a wonderful opportunity to inquire about recommended work that has not yet been acted upon. Where this is not practical, consider providing a customized report card which contains this information in summary form and which you can review together over the telephone.
Measure the Activity that Drives Results
Peter Drucker is attributed with the truism, "What gets measured, gets managed."
If you truly believe that your technicians play a critical role in adding real value for your customers by initiating proactive conversations to improve operations, etc., then it would be wise to direct and manage that activity.
And, as Drucker reminds us, measure that activity.
One way is to count the number of quotes that a technician brings in as a measure of how proactive they are in having conversations with their customers.
This does provide some indication, but I prefer the notion of asking the customer for their assessment of how proactive your technicians are in bringing new ideas that help them. It is also a great way to reinforce with your customers the great work you are doing.
To do this, here is a question that you can add to your satisfaction surveys or follow-up telephone calls with your customers — "On a scale of 1 – 10, how proactive is our technician in bringing you new ideas and suggestions that will help you improve the operation of your business (or your home)?"
Competitive market pressures mean that, more than ever, businesses have to fight for the right to keep their customers. You must be able to demonstrate to those customers that they are better off for having hired you as their service provider.
This requires a proactive approach that empowers and encourages employees to identify and discuss the products, technologies and services that will enable their customers to make the improvements that will help them achieve their business.
As a result, good customer service is no longer the basis of competitive advantage but rather the necessary minimum for doing business today — good customer service isn't good enough any more.
---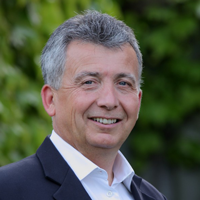 Jim Baston is president of BBA Consulting Group Inc., a management consulting and training firm dedicated to helping technical service firms leverage the untapped potential in their business-development efforts. Contact Jim at jbaston@bbaconsulting.ca or visit www.bbaconsulting.ca.