As HVACR business owners, aren't we all looking for new customers?  Of course, we are! We want quality lifelong customers that will sing our praises and be our best advocates – it's all about the 5-star reviews. To understand how to get there, we must address how the buying cycle in our industry has changed drastically in recent years. 
Not too long ago, we lived off our reputation in the community, and word of mouth, which accounted for much of our business.  Today, people are more transient. The idea of longstanding relations among communities has changed. And the new resident in your community had no idea that you are the best service provider in their new hometown. So, to develop our reputations today, we must "preach" our messages on the platforms consumers trust. So, let's see what that looks like….
The Road to the Review Starts with a Need
Remember from some of our prior articles, your potential new customer is not thinking about your company until they need you.  At the time of this publication, it's almost spring. The warm weather is just around the corner, so we'll use an air conditioning scenario.  Mrs. Homeowner X enters the home around 5:45 pm with the kiddos in tow.  It's been a long day at work, she was late picking up the kids, and they have soccer practice tonight.  But she notices it's uncomfortably warm in the home. The A/C is not working!
Then, A Search for Solutions
Mrs. Homeowner X grabs her smartphone and searches for something like, "Air Conditioner Service Anytown USA".  
Here are the results that appear: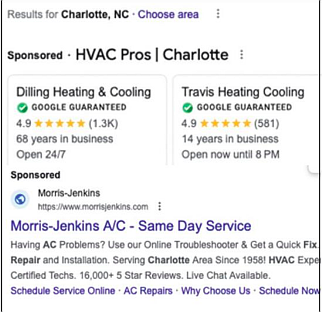 Mrs. Homeowner X reviews the results: "Google Guaranteed" at the top, then the "Paid" search ads, then the "Local Maps Pack", and finally the "Organic" results.  Mrs. Homeowner X recognizes a couple of the companies in the search results; she is not sure how she knows them, but she clicks on their listing.  Their website looks professional, modern, and up-to-date.  She quickly checks their Google Business Listing and reads their reviews. 
How to Get Your HVACR Company Found?
For the above to happen, you have to be found!  We call it "real estate" on the page.  The more areas your company is listed on in the SERPs(Search Engine Results) page, the better chance you have to get the phone call. These steps will ensure you have the opportunity to show up on page 1 or what is often known as rank on the first page:
•    Google Guaranteed – enroll your company in this "pay per lead" platform, it's a free listing for your business. It creates no-cost impressions, and your HVACR company doesn't get charged until they call you.
•    Search Ads – invest in this platform if your budget allows for it. (This will assure another piece of real estate on the page)
•    Local Maps Pack – Make sure your Google Business page is up to date with all the correct company information and the correct business hours. Update it regularly with posts, pictures, and new information. It will help your company show up more often.
•    Google Reviews – These are of paramount importance today. Consumers read reviews and make quick assessments about the quality of your business based on them.  Also, they impact Google Guaranteed, the local maps pack, and your organic listing. 
Deliver on Your Promises
Your potential life-long customer is on your company's website.  Your content better answer the need immediately or they are going to leave your site.  Mrs. Homeowner X searched for "air conditioner repair", so when they land on your website, it must easily answer the need.  
Here is what the potential customer needs to see when they land on your website:
•    A modern mobile responsive website that looks professional and inviting
•    It showcases your services (Air Conditioner Repair in this example)
•    Calls to Action: Prominent phone #, Schedule Service Button, Learn More Button
•    Provides collateral about your company:  List the number of years in business, trusted associations, guaranteed service, and flexible hours with the consumer in mind
Here comes one of the most important parts of our story…..wait for it! When the customer contacts you, the first impression often makes or breaks the sale. Let's see how it's handled from there.
The First Impression
The first impression starts with how promptly the phone gets answered, ideally within a few rings. Mrs. Homeowner X has an urgent need and is looking to find someone she can trust to take care of it. Attention to detail or the lack of it either builds or hurts trust. 
Next, is there a consistent opening greeting that fits the appropriate branding and core values of your company? This should be scripted and perfected by trained personnel whom you have answering the phones. Many companies leave this up to the person answering the phone which can create inconsistency. "Hello, ABC Air Conditioning, how may I help you?" and "It's a great day at ABC Air Conditioning, how may we take care of you?" are very different greetings and would be fitting at very different companies. Be intentional here and create the right first impression of your brand.
Set the Appointment
The ultimate measurement of success with your company's skills on the phone is the appointment close rate. This is the percentage of the time that a lead who calls in gets successfully booked into an appointment. To improve this appointment rate, Customer Service Representatives (CSR) who answer the phone at your company must be trained on their tone, professionalism, empathy, and active listening skills. Often, their listening skills are the most important thing.
Following solid scripts is important so that all customer details are consistently asked and collected. CSAs should be trained to take notes on customer concerns. These should be documented and passed along to the service technicians to troubleshoot any objections or obstacles that can be handled without the need to transfer or place the customer on hold. Recording calls to learn and coach is highly recommended. Handling any concerns in the early stages of customer relations will also impact your star rating in the long run.
Now that the appointment is booked, and all notes are documented on the customer profile, the right technician must be dispatched to the right job. Dispatch has one of the greatest influences on customer satisfaction, as well as revenue, in your company of any position. Without tracking key data on the service technicians and utilizing a set dispatch strategy to match technicians to the right service call, customers are not served as well and valuable opportunities for long-term business are missed.
The Home Service Appointment Builds Trust
The service technician who is dispatched needs to continue the goal of building trust which again comes from following an intentional and consistent process. Technicians need to be heavily trained on making a call ahead, first impression details upon arrival, and have quality questions to ask the homeowner to understand how they can help them be more comfortable in their home. Homeowners don't want to feel they are being told what to do or feel pushed into recommendations, they want to be listened to, to understand what the technician is finding and seeing in their system, and to know what the options are for solving their problems. These conversations should be practiced over and over again. Well-trained technicians lead to happy customers!
Service Technicians Ask for the Reviews
If everyone at every step in this process understands their purpose and does their job well, the customer should be happy and comfortable. This is the perfect time to ask for a review. Ideally, the service technician should ask for and collect a review before leaving the house. A great time to ask is right after the technician has completed their work and showed it to the homeowner to confirm the homeowner is satisfied. This then gives the homeowner time to complete it while the technician is cleaning up their job site and moving tools back out to their van. The technician can then check in and see if it was completed before saying goodbye and driving off from the home. 
Good Reviews Matter
The importance of reviews for your HVACR business is vital to your success. People actively read reviews before they make purchase decisions.  Studies show consumers will put more TRUST in reviews from someone they don't know over a friend's recommendation. The GOAL here is to drive as many reviews as you can as consistently as you can.  Also, Google wants you to reply to all reviews.  The 5-Star ones are easy – a simple thank you will suffice. But for the 1- and 2-Star reviews, it requires a little more effort. Consumers want to know how you handled a bad situation.  Simply tell your story. Apologize if necessary and move on.  Remember the customer is always right. I recommend contacting the customer directly so you can potentially work out the issue with them.  They may even improve the star rating or take the review down if you handle it well and ask nicely.
Will Merritt is the managing partner at Effective Media Solutions in Charlotte, NC. He has more than three decades of experience creating marketing solutions for business owners. For more, visit http://myeffectivemedia.com or email will@myeffectivemedia.com
Derreck Hofrichter is a Coach & Trainer at Service Business Evolution. As a business owner, communications professional, and athlete, he brings all of this experience into his coaching and training. Having founded and managed a successful fitness coaching business from a solo enterprise to a staff of 20, he understands how to inspire and motivate teams to reach their goals.
Before operating his business, Derrek spent time in various communications roles from political speechwriter to Director of Communications and truly believes that to improve your business you need to improve how you communicate.
https://sbeodyssey.com/about/team/dh-bio