The 2023 Tops in Trucks Fleet Design Contest winners are here! If you are a loyal reader, then you know that the June Tops in Trucks issue caps off our biggest publication of the year. Once again, we received a record number of entries, but the 2023 race was tight! Obviously, from the looks of it, HVACR owners recognize the importance of fleet wraps as the biggest part of their marketing budget because WOW, these designs are some of the best entries we have seen. When I say we had a tough time deciding, I mean it. There were so many amazing choices – a great problem to have – and if you didn't win, just know that ultimately the win is in the recognition that a good fleet design is the wisest investment you can make in your business. And we recognize all the entrants for moving past the white van syndrome into high marketing visibility! 
This year, the range of entrants was expansive. Not only did we have entrants from all over the country, but at least one who just wrapped their fleets less than a year ago and they made it to the winners' circle.  In all cases, hearty congratulations are due to all of you! The win is in your company's recognition that there is no better marketing tool for HVACR owners. And, it's very rewarding for us to team up with you and celebrate excellence in design and marketing.  If you wonder what set apart the winners, you should know it's not a purely subjective decision. As you may have read in this month's Publisher Page, we have a stringent checklist of must-haves which includes in part: color and aesthetic, brand awareness and story, messaging, legibility, and cohesive design. While all the designs this year delivered excellence within those parameters, a handful of entries rose to the top. One interesting note this year, many of the selected had similar responses, saying, "It will be interesting to see who won because I think our design is the best!" And, I say that to point out, a good design will give your company a boost in pride as well as brand recognition. Well played, contestants!
Following are our top choices for the 2023 Tops in Trucks Fleet Design Contest! We've selected three winners, three runners-up, and four honorable mention selections.
WINNERS
Hummingbird Heating and Cooling
Syracuse, NY | 5 Vehicles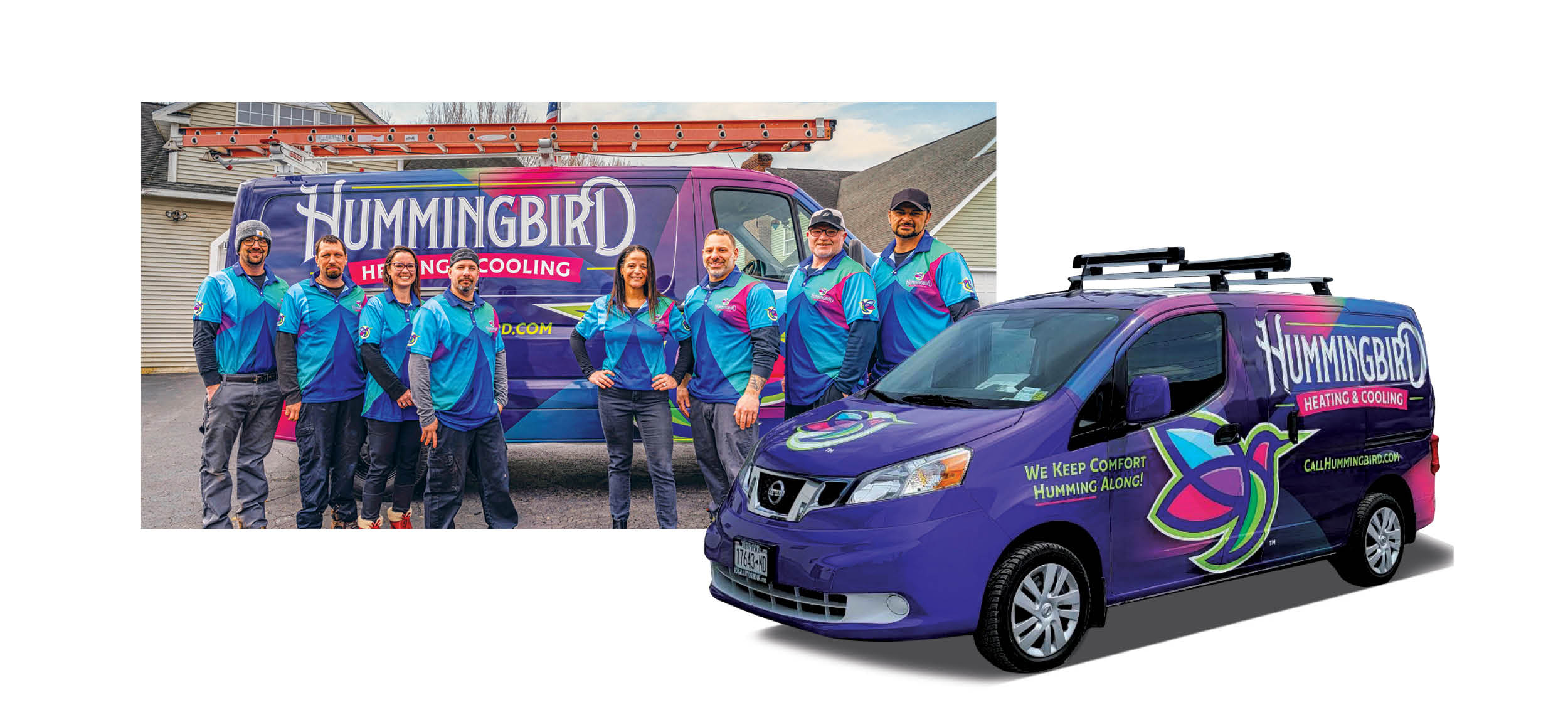 Hummingbird Heating and Cooling stood out from the very first day we glanced at the entries. Owners Chad and Veda Terrinoni said that while they only implemented the new design in December 2022 and launched it a couple of months ago, as part of an overall rebranding strategy, the Hummingbird design has already become a local favorite. Quoting Veda, "Since launching our new brand, the feedback was immediate and amazing! The local community has been reaching out to let us know that they noticed our vehicles on the streets and have expressed how the logo has brightened their day." We love it. The Hummingbird design is beautiful with vibrant colors. And Chad added that It's instilled a sense of pride in the team. "Our employees are excited about driving around our fleet and tell us that heads turn when the vans roll by! We have become the talk of the town in such a short time. It is exciting." We agree - the design is worthy of a double-take, but more than that, it works so well together with its inspired branding and messaging. Note the logo tag, "Hum's the Word," and the speedy inference of the hummingbird mascot – it's a winning combination. 
Located in Syracuse, NY, the team of eight and the fleet of five exploded onto the Tops in Trucks list of winners. One of the pluses that sets them apart, aside from the beautiful design, is the integration of the brand messaging throughout – with messaging like, "We keep comfort humming along," and the creation of their Early Bird Maintenance Club – it's a smart example of design and messaging working in tandem.  
Jay's Heating, Air & Plumbing
Mt Airy, NC | 19 Vehicles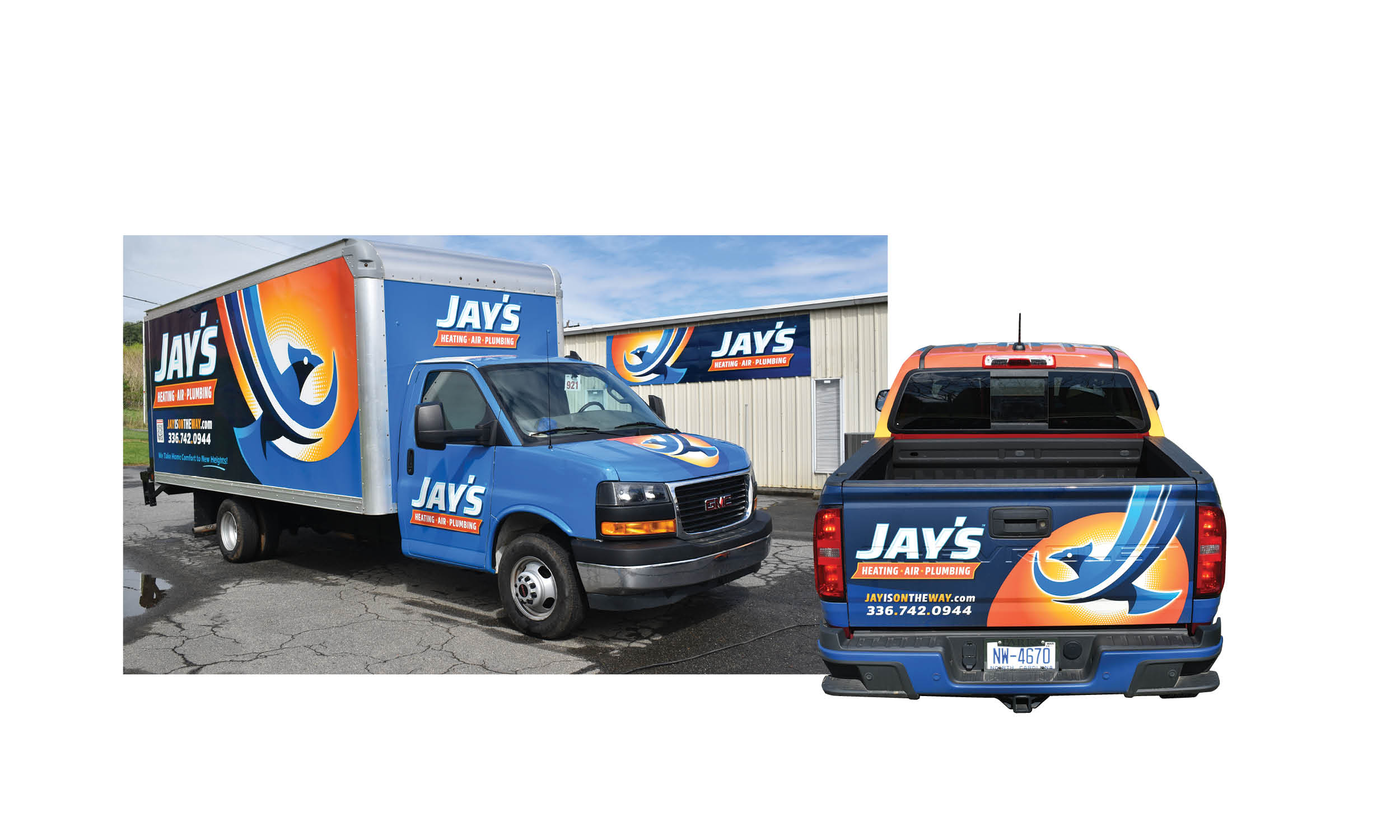 Jay's Heating, Air & Plumbing, formerly operated under J's HVAC Unlimited, LLC. "J's" represented the family's names, Jamie, Joanie, Jackson, and Julianna. When they rebranded, they decided on the Jaybird mascot. 
Jay's is another example of a company that just launched its rebranding effort and it's already paying off. Marketing Specialist, Jamie Vaughan said, "Our journey of rebranding and creating a new logo began in the Spring of 2022. Our first truck with the new logo went on the road in August 2022. All nineteen of our vehicles that service the field are wrapped with our new logo design." 
When asked if he felt the investment is paying off, Vaughn replied. "The expense of rebranding was significant. This is an investment that we feel will pay off going forward. And yes, we are starting to see a return on the investment. We track our marketing, as well as ask our customers how they heard about us. If they use the tracking number, it populates with the call. We like hearing how they heard about us. Some will tell us they have seen our vehicle on the highway or in their neighbor's driveway. Our former design was fire and ice, and it was a very busy design. We had people in our community that didn't know what HVAC represented. They would tell us they could not read our phone number. While they noticed us, the fact they could not relate to the service we offered was a big issue. Our customers love the new design. Some of our staff have been stopped at other businesses within the community explaining how much they love the new design. Other customers have also expressed the same thing."
Eco Plumbers, Electricians, and HVAC Technicians
Hilliard, OH | 211 Vehicles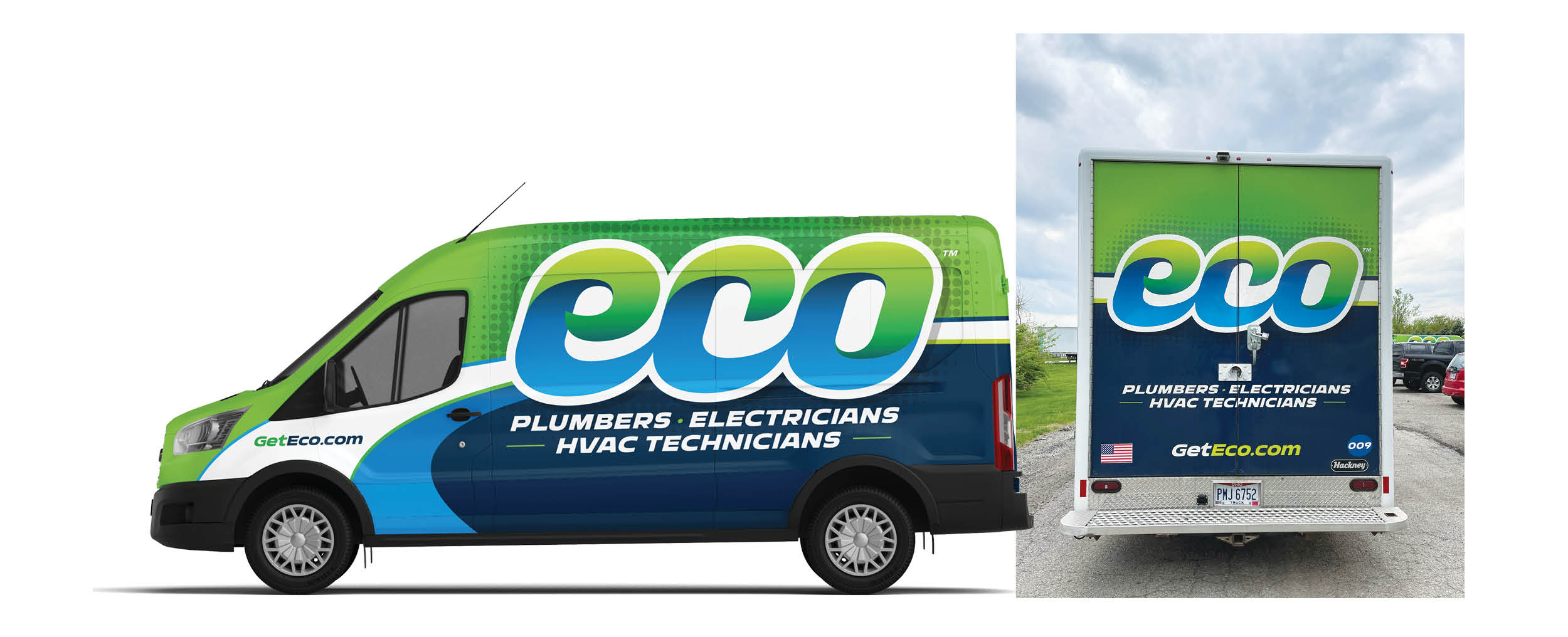 The entry for Eco Plumbers, Electricians, and HVAC Technicians, was submitted by Eva Rhode, Marketing Manager for the company that has been thriving since 2007. The fleet design was part of a rebranding when they added new trades to the business, expanded the service areas in Ohio, and achieved planned growth goals. 
We realized that the existing branding felt dated. Said Rhode, "It was the correct time to update our brand and tell our brand story better. Our dominant brand colors from the old logo and branding were green and blue. These two colors were updated to contemporary hues that continued to capture our eco-friendly brand story, and related to the services, plumbing (water/blues), heating (warm air/yellow greens), cooling (cool air/blues), and electrical (energy/yellow-greens). All eight specified colors in our palette come from the rich gradients used in the logo. Additionally, the darkest blue was used in the design to feature the tradespersons wording situated under the "eco" logo and give weight to the bottom of the truck from the side and back views. This put a focus on the tradespeople, whom we are very proud of, and allowed the best legibility from a distance. 
The strategic thinking that went into our new name, logo, and fleet design is very strong and it imparts all the correct information to our customers, whether consciously or subconsciously. By scale, the design also suggests a big mission, and that is to help people all across Ohio with their homes. The company wants to be the household name in home service, and you get that feeling from our bold design! Our new design feels like a big consumer brand that competes for viewers' attention, like those in the grocery store laundry aisle! 
We're very excited by the improvement in weekly impressions we get from the improvement in readability. Our simple, unique design disrupts the traditional thinking of what a plumbing, electrical, and heating and cooling company typically looks like with contemporary flair. The design is successfully being extended to all our marketing and is a consistent part of our brand story!"
One aspect our team liked was the simplicity of the design – no cartoons or mascots – but still it conveyed the perfect brand messaging for the company.
Runners Up
Ahoy! Cooling & Heating
Tampa Bay, FL |5 Vehicles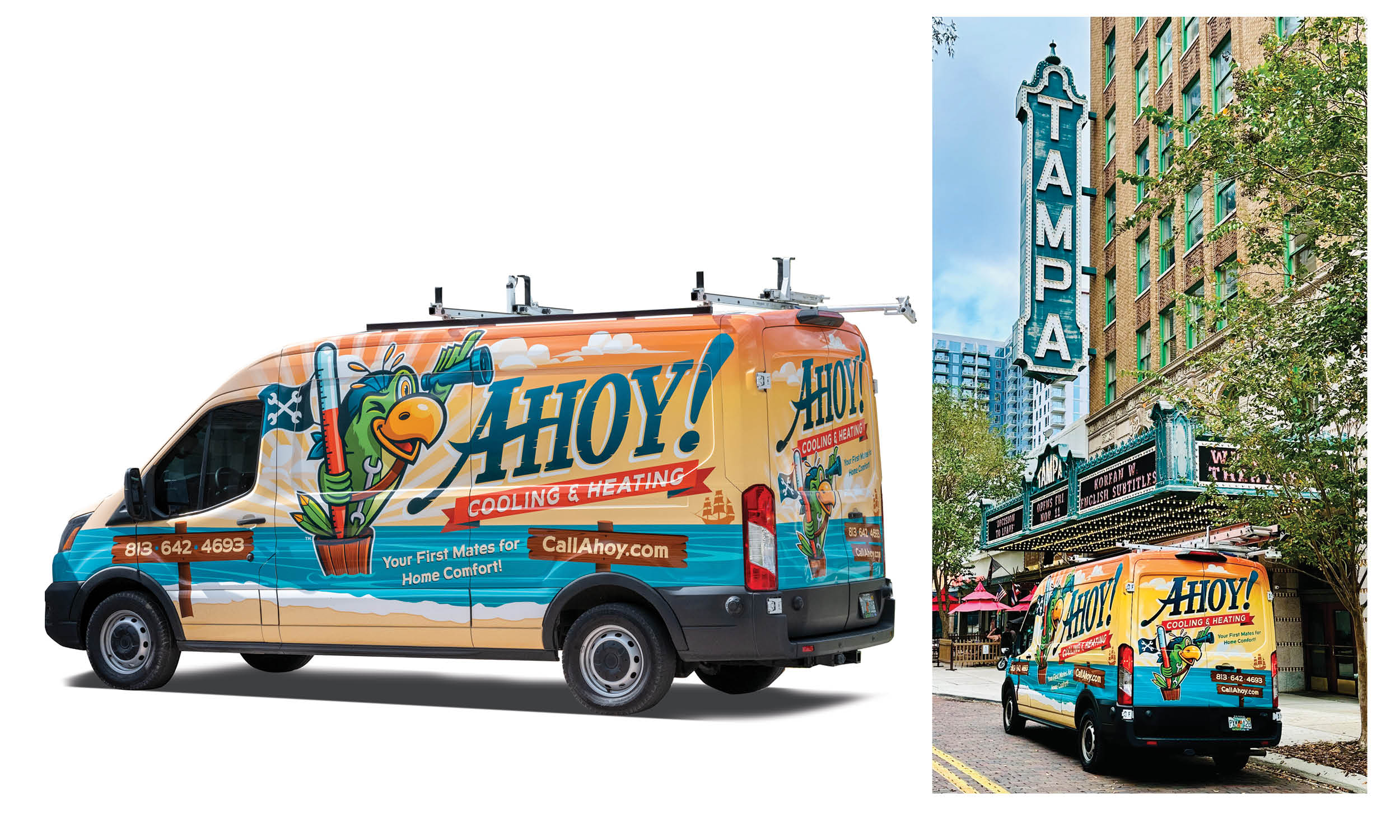 Adam Washburn said Tampa was definitely an influence on the design of his fleet. "Being in Tampa Bay, we are surrounded by year-round sunshine and of course, the ocean. We incorporated the most enjoyable parts of Tampa living into our look and the feedback has been wonderful."
Ahoy is another company with a brand-new design, and this team knocked it out of the park to make it on our list. Launching its entire renaming and rebranding early in 2023, Washburn has a fleet of five. When asked about the investment and if it's delivered a return, he answered, "One thousand percent-yes. Not only has it helped us make an impact on new customers, but our existing customers and employees love the look. We have seen a 25% increase in sales revenue over last year, YTD. 
Customers love it. Not a day goes by that we don't receive a compliment on the look of our vans or our technicians. Employees are proudly standing behind the new look. They love the compliments that they receive from customers and strangers as they spend their days traveling and working around the city. One reason we think it works is because it reflects Tampa Bay in the design. We are proud to be a Tampa Bay-based company and when you see the name associated with the water and color palette, there's no confusing us for another HVAC company. It's sticky and relevant to our market. We represent the area we work in extremely well and are disrupting what the conventional HVAC contractor looks like."
Dugan Air
Franklin, IN | 11 Vehicles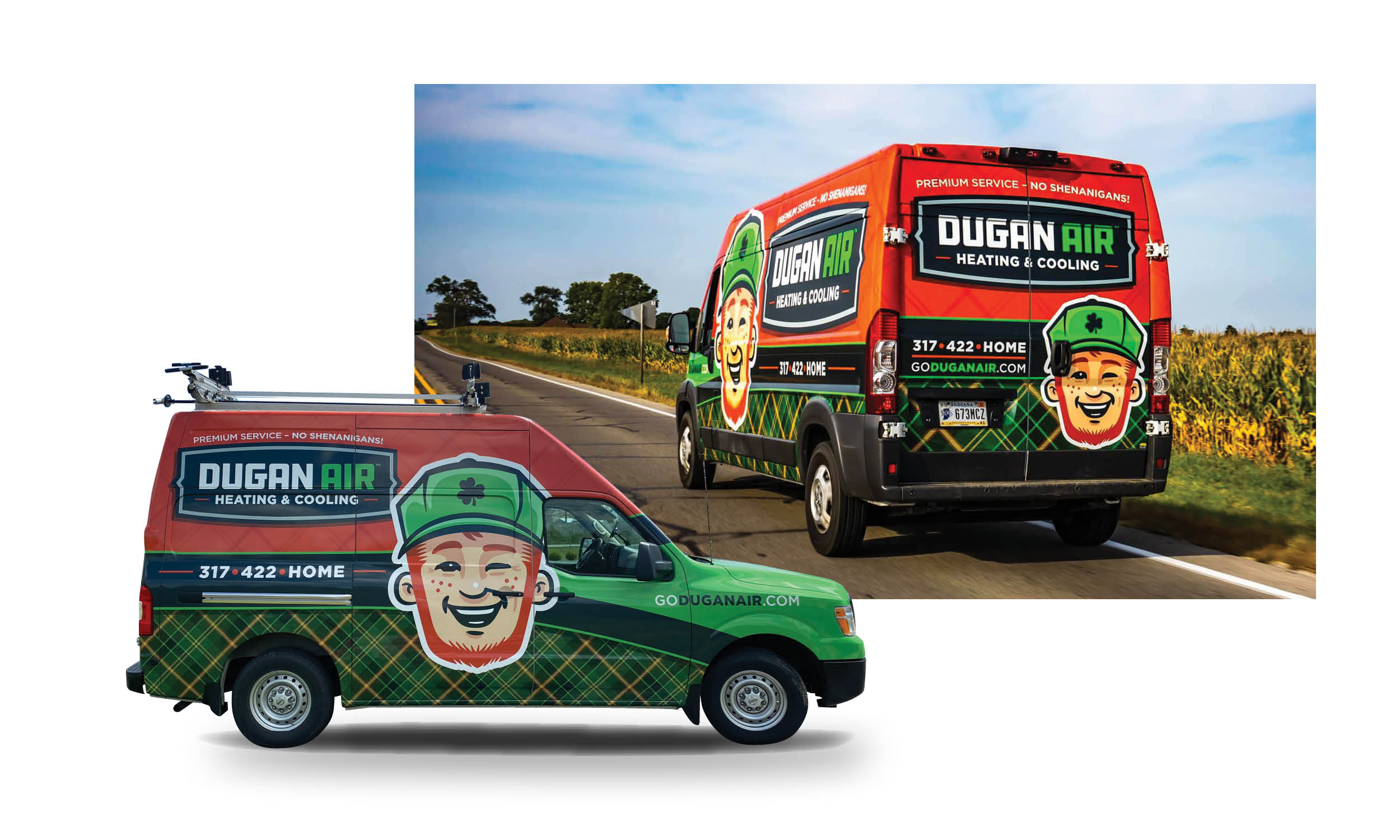 With their "Premium Service No Shenanigans" tagline, Dan Dugan said of the recent rebranding, our name "Dugan" is an Irish name, so the colors and Tartan Plaid made sense. It makes you think Irish and we made the Dugan our mascot." He explained, "We went from a blue and white cloud theme to the tartan colors of Ireland. It makes us unique. As far as the investment – we've grown. Last year we grew 40% and we are looking to grow by another 35% this year." As far as branding, I liked the throughline of the messaging – it's on point. Since the rebranding, Dugan Air offers a membership in the Premium Clover Club for greater savings on maintenance, exclusive perks and benefits like priority service, and discounts. In addition to the "No Shenanigans" tagline, they speak of standing out as a four-leaf clover in a field of ordinary providers. 
A fun side-note – our team was truly excited to make the call announcing Dugan as a runner-up since they have entered several other years. Perseverance pays off.
Peppy! Heating and Cooling
Boise, ID | 8 Vehicles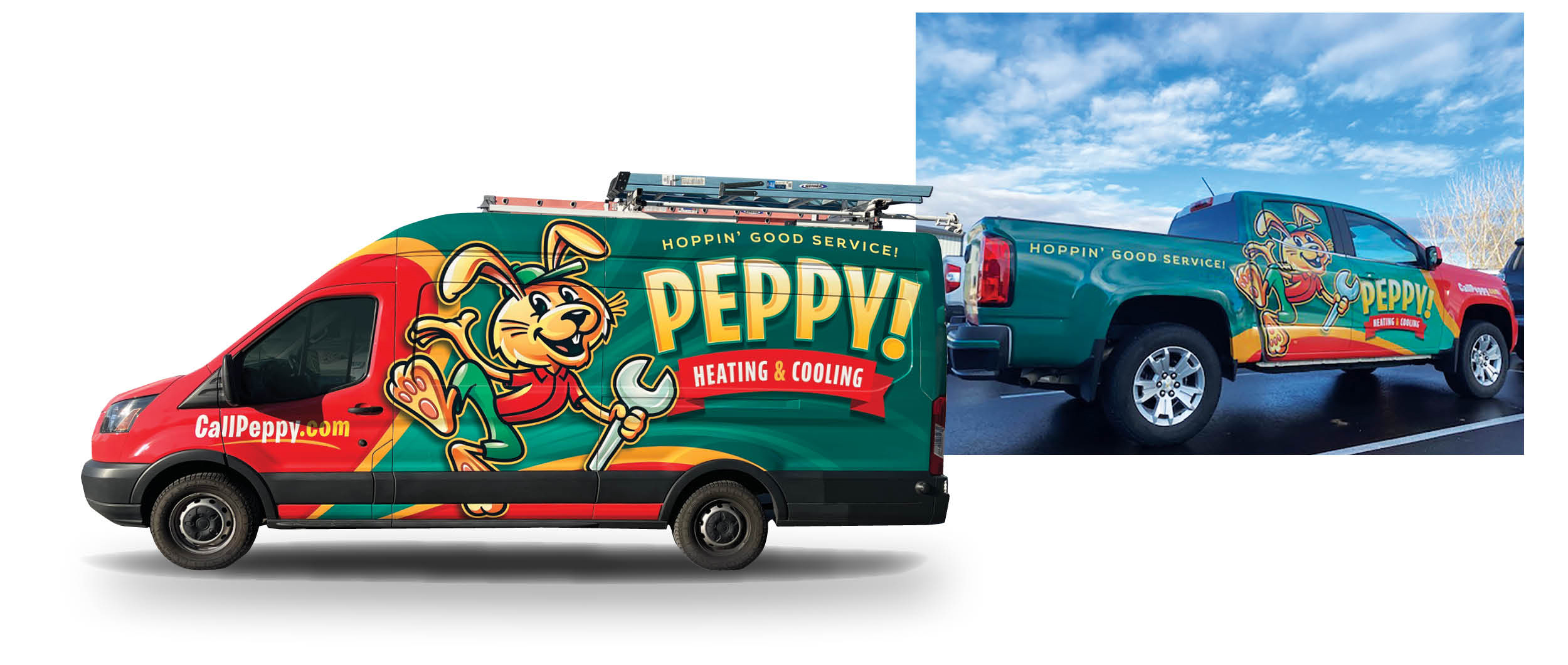 When I spoke with Brett Shannon, owner of Peppy! Heating and Cooling, he said that originally, he'd decided on the design and rewrapping of the fleet, but not on a full name and rebranding effort. However, it soon became apparent that since they were moving more towards a residential home service company, their former name Shanco, wouldn't fit anymore. 
Brett said, "We wanted a color scheme that was bright and playful! We wanted people to feel comfortable calling us knowing that we would be upbeat, cheerful, and ready to help! There are no other HVAC companies in our area that use these same bright colors. We hired a marketing firm that helped us with the name and the brand design. We were looking to put a pep in our step, and we feel like the new name and truck designs did that perfectly!" When we asked if he has seen a significant uptick in business, he said, "It has only been a few short months, but we have already received customers calling in saying that we have seen our trucks on the road, liked the branding, and felt like calling us because they liked the truck wraps and would feel comfortable having us out to their homes.  It's been a big change."  As for our team, we loved the hopping rabbit on the side which makes the fleet stand out. Besides the 3-D rabbit that looks like it's going to jump off the van, I especially liked the messaging, including "Hoppin' Good Service," and what they call "The Peppy Promise." Part of the promise is an assurance by the owner that, "from the phone call to when the service tech goes out to your home, we make a promise to our customers that we'll do whatever it takes to make it right and make sure that they're happy customers for life."
Honorable Mention
Can Do Crew Plumbing, Heating & AC 
Bakersfield, CA | 9 Vehicles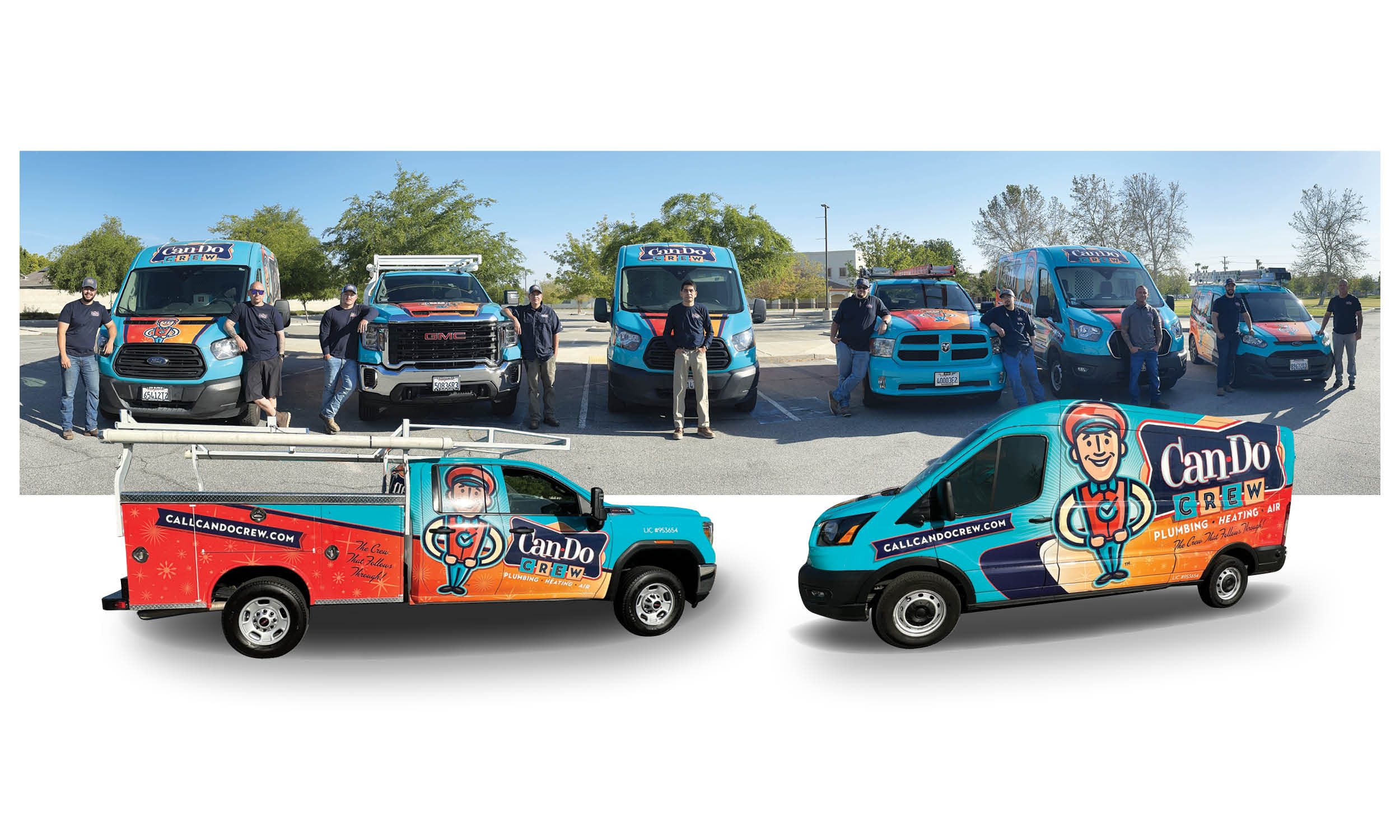 Can Do Crew --- also known as the "crew that follows through," was our next clear choice for runner-up. When I spoke with Douglas Oakes, owner of Can Do Crew, his enthusiasm for the brand was infectious. Oakes explained that he attended the Service Titan Pantheon Conference and listened to a speaker talk about the benefits of a quality brand. He talked about where most companies go wrong, and specifically, how much market share could be gained if a  brand became a "top of mind" brand. That was in April and in October we were finally ready to launch the creative process. Oakes added, "It was a total rebrand, including a name change. Formerly, known as On Time Services, we decided on Can Do Crew Plumbing, Heating & AC. It was fun (we could hardly say the name without a smile on our faces) and it allowed us to present a quality brand promise just by saying the name." 
As for the decision to make Can Do Crew one of our runner-ups, our team immediately liked the retro vibe of the serviceman who looks like an old-school door-to-door service tech. I mentioned this to Oakes and he agreed saying, "We just wanted the messaging to communicate that when we say we are going to do something, we are going to do it." When I asked if the fleet had increased business, he said, "Well, we just launched, but the other day we had a gentleman call because he pulled up behind the van with the 'bad-ass wrap'. I can tell you that in the two years before this fleet design, I'd never received a call like that."
AC Plus Heating & Cooling 
Victorville, CA | 15 Vehicles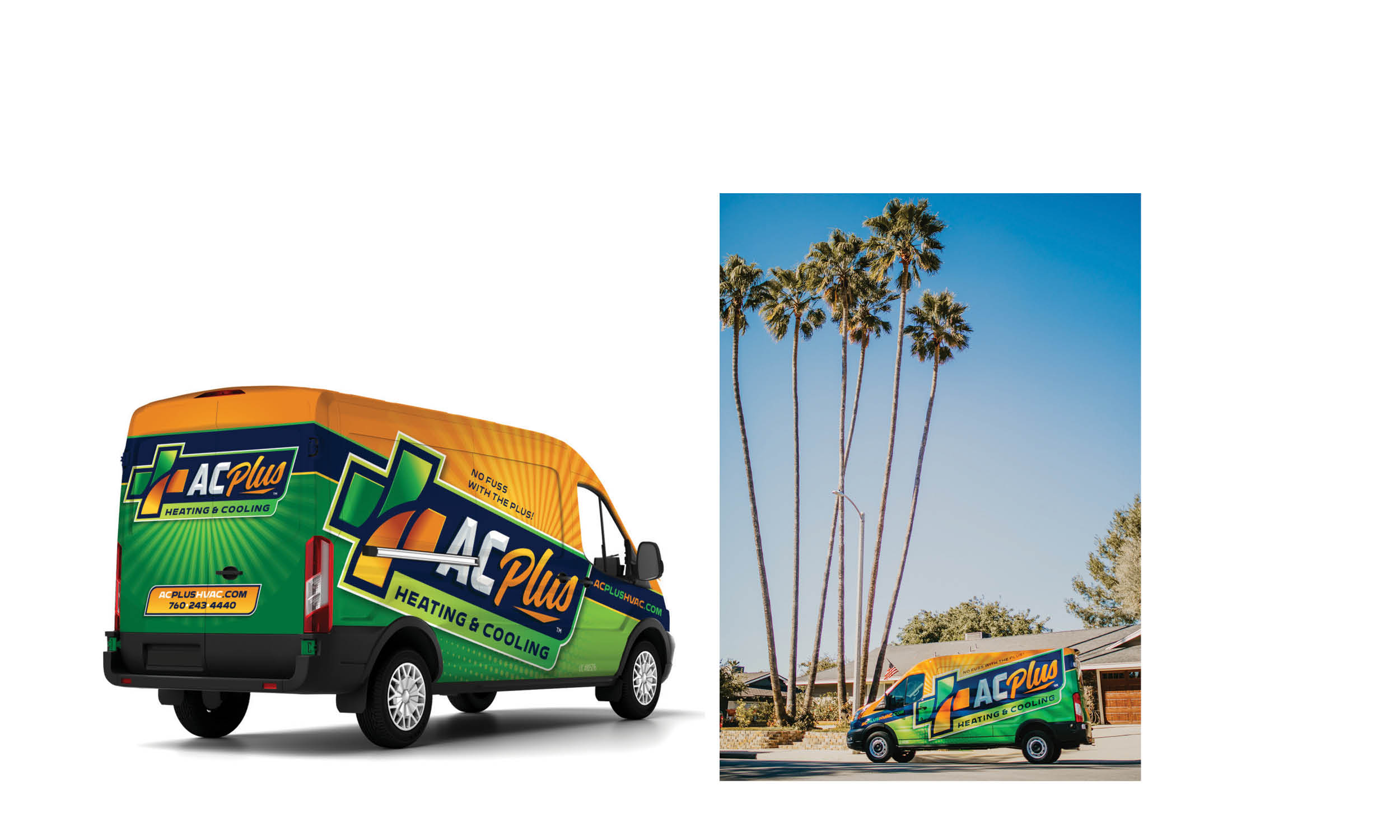 This is another new fleet design. So, if you have ever wondered if investing in a winning fleet design is worth it, this latest slate of winners is a true testament that it is. Matt Postoian of AC Plus Heating & Cooling just implemented this new fleet design in January 2023. Not only is he now a finalist in Tops in Trucks but he says the investment has already shown its worth. Postoian founded AC Plus Heating & Cooling in 2001. Intending to expand in the new year and increase revenue, he knew he had to launch a rebranding initiative. As part of the initiative, he had in mind, the sole objective was to double company revenue. "And," says the president, "the fleet design accomplished that. Since the beginning of the year, we've doubled our revenue each month and the people love our new colors and branding. The employees take pride in it and people stop us to take pictures all the time." 
Editorially, I liked the double play on visuals with the messaging.  When I saw the cross in the design it made me think of "rescue, help on the way, "but in their messaging and brand name it is a plus which also means extra service and their tag is, "No Fuss With The Plus!" Either way, it works to evoke the exact brand message they intended! It's a winning design.
Lee's Air, Plumbing, & Heating 
Fresno, CA| 125 Vehicles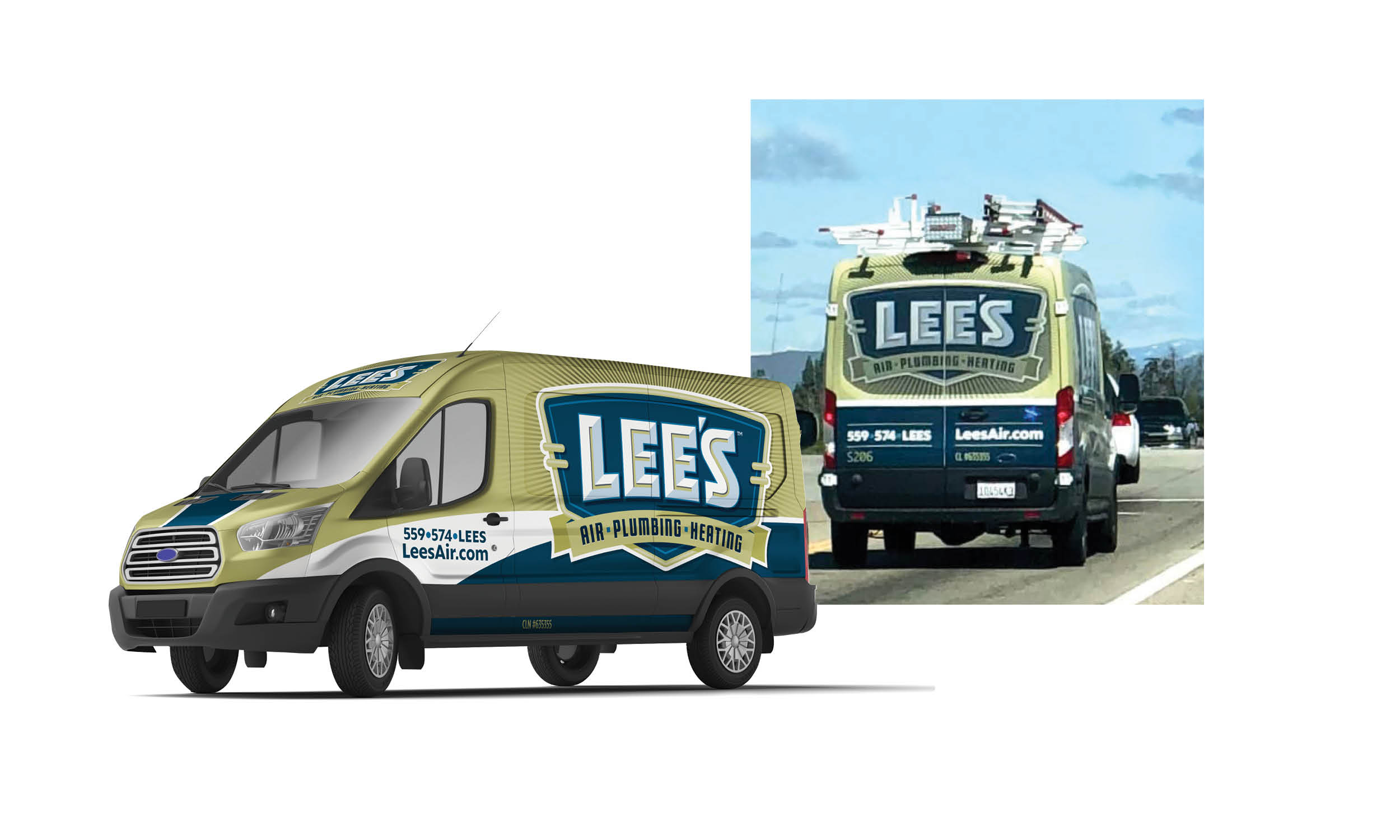 Nominated by operations manager, Josue Solis, Lee's Air, Plumbing, & Heating was the logical choice to be a finalist. It stood out for its bold, clean, simple design and the memorable LEE'S logo that is the center of the design rather than a cute character. The blues and greens elicit trust and stand out from many red, white, and blue designs that are common among fleet vehicles.  Solis said, "We wanted to establish brand recognition and make our company easily recognizable to potential customers. We wanted our brand to stand out and make a lasting impression. Plus, a professional and cohesive look established our company as trustworthy and reliable in the eyes of our customers. We knew these colors of almost expired avocado green and navy would make customers feel confident in the expertise and experience of our HVAC and plumbing services in Fresno, CA. We also knew nobody would replicate the colors and we were counting on the fact our great Lee's Air, Plumbing, & Heating logo would boost employee pride and morale. When employees see our company's logo and design displayed prominently on their vehicles, uniforms, and promotional material, it increased their sense of belonging and commitment to the company." I commented that I loved the masculine, bold, design and he added, "Without being macho…" And I agree. It was the simplicity of this design for me. I kept returning to Lee's page entry which ensured for me, that it was a winner. 
Anchor Heating and Air LLC
Charleston, SC | 6 Vehicles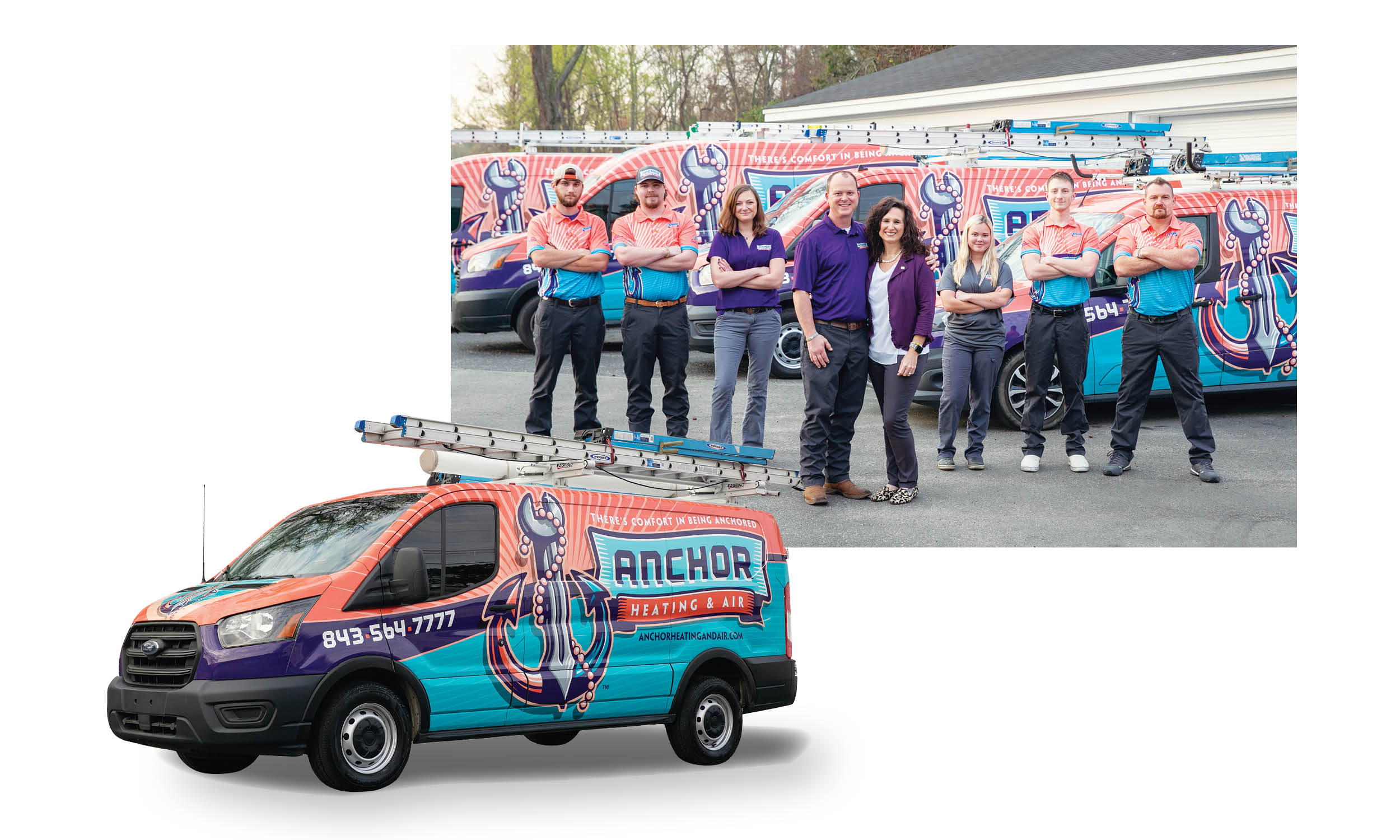 After speaking with Stephanie Postell, co-owner of Anchor Heating and Air LLC, it was very evident why their design made an impact. She and her husband David are co-owners of the fairly new company, Anchor Heating and Air LLC. Founded in 2021, she said they knew immediately they would have to focus on branding and fleet design. She expressed incredible passion for the brand, her community, and the thought that went into the design. Stephanie said, fleet design marketing was in the business plan. Although they opened in 2021, they only finished wrapping the fleet in November 2022 so to be one of the runners-up is quite the victory. I asked her about the anchor and pearls. She responded, "Well, not only are we female-owned – I am a co-owner – but wrapped around the Anchor is a set of pearls which is my signature for over 35 years. The pearls represent the standard that we set as well as what is called our Pearl Promise. We do what we say we will do. We show up when we say we will show up. We exceed expectations every time! So, we were excited to have the pearls on our trucks complete our brand story. There are also a few other hidden elements like the three gleams on the anchor which symbolize our faith in God as well as the orange and purple for our Clemson Tigers.
Our customers love the design. We get texts and tags on social media when people see our trucks. They are big, beautiful billboards that show the standard of work we provide. Lots of our customers want to wear our swag because they love our branding!" 
https://anchorheatingandair.com/
Congratulations to all the winners. Your efforts have been recognized as part of the esteemed and select few named, Tops in Trucks Winners 2023.