Terry Tanker sat down with Colleen Keyworth president of Women in HVACR to discuss the organization, growing up in a contracting family, on-line marketing and being named Service Nations Woman of the Year 2020.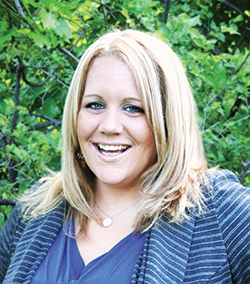 1. How would you finish this sentence: "People would be surprised to know I ..."
was a former kayak tour guide in the Everglades.
2. You have a salespersons motto, can you share that with us?
My motto in life has always been, "Work until you no longer have to introduce yourself," and I even have that on my wall.
3. Your father and uncle own Vincent's Heating & Plumbing. Is that how you got your start?
I went back after college, but I wasn't ready. My uncle fired me! And, he should have. I left work and missed an important call to go shopping.  I was 20, I wasn't focused. I didn't get it. From there, I was holding down four jobs.  Event planning full time, which I loved. I also worked midnights at Meijers, worked as a greeting card distributor and as a childcare provider.
4. How was Vincent's started?
In the '60s, my grandfather worked for this grumpy old man named Vincent Unte. His company was Vincent's Heating and Plumbing, and when my grandfather bought it in 1968, he kept the name.  And our motto is, "Wherever you see a Vincent van Gogh, you know the job will be a work of art." Pretty catchy.
5. What brought you back to the family business?
My dad told me that I'd be very good at sales for a long time. I happened to be at an event and got up in front of 400 people and loved it. Something clicked. The company putting on the event wanted me to join their sales team. But then, I immediately called my dad and said, "Hey, is that sales position still open?" 
6. So, you were going to sell for Vincent's?
Actually, no, for another company he had started called Online Access. This is a digital marketing company for contractors. It's a hosting platform for websites and a content management system. We created a nontemplate-based system to develop custom websites for contractors.  It was revolutionary in early 2000. I joined Online Access in early 2013.
7. Why did your father (Dave Squires) see a need for this?
My dad worked with many manufacturers and wholesalers because he had invented a refrigeration recovery unit and worked with Muller Brass. He was also involved with a lot of boards and early best practice groups. Because of this, he saw the need for a marketing platform for contractors.
8. What do you do for Vincent's and Online Access?
I direct all sales, marketing, events and our social media departments for Online Access and help coordinate Vincent's social media, community outreach activities and marketing. 
9. Can you tell me more about both companies? 
Vincent's is a contracting company in Port Huron, Michigan, and we have 17 techs and do residential light commercial HVAC, plumbing and drain cleaning. in addition, Online Access manages online marketing for and develops and maintains over 500 websites for customers all over the U.S. and Canada, and we've been in business for 21 years. 
10. How is Online Access unique from other vendors?
We own a contracting company. That gives us a great perspective to understand our customers' wants and needs.  We have an entire staff of full-time in-house programmers, graphic designers, customer support, and our own product development, sales and social media teams.  Our turnaround time for our client's customer service requests is the same day, and that's unique in the industry. We're also subscription-based and are low-cost and accessible to everyone.
11. After contractors hire Online Access, what do you have to teach them?
When you hire an outside expert, let them do their job to help you. Contractors are the experts when it comes to HVAC. We're the experts when it comes to on-line marketing; it's all we do. Often, we have to help them take their hand off the wheel and let us drive this part of their business.
12. Are there too many cooks in the kitchen?
HaHa yes.  Sometimes we have to help them get out of their way. We understand their passion, but they've hired us to do a job to help them better navigate this side of their business. 
13. How much does it cost a contractor to have a website developed by
Online Access?
We can do it all for under $1000 a month, and that includes our top bells and whistle package. Our turnaround time to get a customer live is about two weeks assuming they are active participants in the process. 
14. You just became president of Women in HVACR. How did you get involved?
I went to an industry show and I met my now mentor, Patti Ellington. She was at the entrance, with all these sparkling lanyards, I wanted to know what it was all about. I introduced myself, and she knew my dad because Online Access has provided Women in HVACR's website since Ruth King started the organization.
15. After that meeting, you joined?
Yes, I joined the following year in 2015 and I've been on the board ever since. Back then, we had about 100 members; now we have over 700!
16. Last year you were also named Service Nations Woman of the Year, correct?
 I was just shocked when Matt Michelle announced that at their virtual conference for Service World Expo. I have been involved with Service Round Table from my start and have done a lot of work for their advisory board groups too. It was such an honor and surprise for me. 
17. What three business principles guide you?
Lead with compassion, definitely have a sense of humor and be transparent.
18. What are the best lessons that you learned from being in the family business? 
Make sure you show up to work and don't get fired by your uncle ... lol. Have some humility, and give people a chance to share their thoughts and ideas. 
19. Do you have a business philosophy? 
I have two. Work until you no longer have to introduce yourself. And would you rather be right or would you rather be successful?
20. What are your top three management strengths and weaknesses?
Passion, knowledge and connections. Weaknesses,  stop making assumptions. sometimes I rush to fix a problem I get ahead of myself. This circles back to "would you rather be right? Or would you rather be successful?"
Terry Tanker is the owner of JFT Properties LLC and publisher of HVACR Business magazine. He has more than 25 years of experience in the advertising and publishing industries. He began his career with a business-to-business advertising agency. Prior to forming JFT Properties LLC in January 2006 he spent 20 years with a large national publishing and media firm where he was the publisher of several titles in the mechanical systems marketplace. In addition to his experience in advertising and publishing Terry has worked closely with numerous industry-related associations over the years including AHRI NATE and ABMA.