Final and proposed rulemaking accelerate refrigerant transition in U.S. commercial refrigeration
For the past several years, commercial refrigeration stakeholders in the United States have been closely monitoring regulatory efforts to phase down the use of high-global warming potential (GWP) hydrofluorocarbon (HFC) refrigerants. The unsettled regulatory climate has made it difficult for food retail companies to plan for compliance and select next-generation refrigeration strategies. However, as we move into 2022, it appears that the regulatory picture is coming into clearer focus.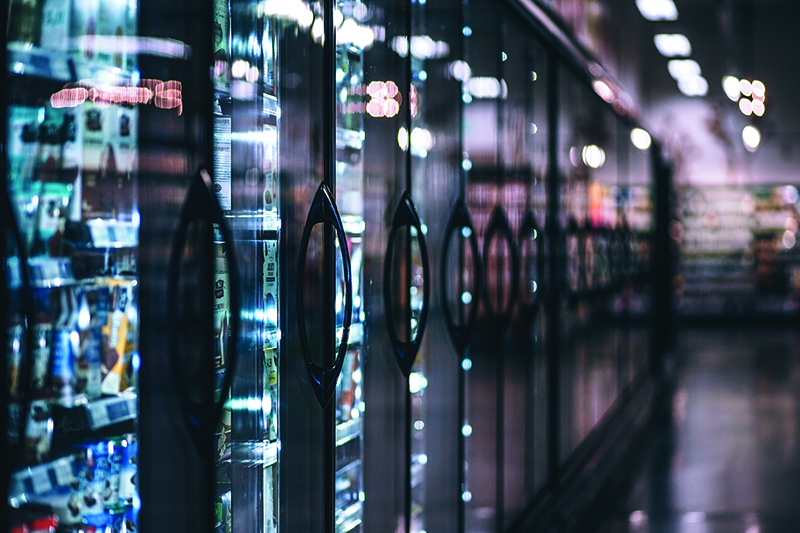 Many companies have already begun their lower-GWP refrigerant transition and have been seeking regulatory guidance to help inform their long-term refrigerant choices to implement their sustainability goals. Others may be taking first steps on their sustainability journeys and monitoring these emerging regulations to better understand the potential impacts on their organizations. Let's take a closer look at the refrigerant rulemaking and proposals that are helping these companies to forge a path forward as they transition to lower-GWP refrigerant technologies.
AIM Act Establishes Federal HFC Legislation
The American Innovation & Manu-facturing Act (AIM Act) was signed into law in 2020, granting the federal government the authority to regulate HFC refrigerants in three primary ways via the Environmental Protection Agency (EPA). 
Phasing down HFC supplies

 by reducing their production and consumption over a 15-year period. These supply- side restrictions began on Jan. 1, 2022, requiring a 10% reduction in HFC production and consumption through 2023. Per this HFC phasedown schedule, an additional 30% reduction will take effect between 2024 and 2028 — with 70% and 80% reductions needed by 2029 and 2034, respectively. Not only are these phasedowns expected to drive up the price of HFC refrigerants as supplies decrease, but they also signal the end of a high-GWP HFC era in commercial refrigeration.

Establishing sector-based approvals and HFC restrictions

 that facilitate transitions to next-generation refrigerant technologies. HFC-use restrictions would help specific sectors to transition more quickly away from higher-GWP HFCs while providing additional flexibility for those who may need more time. A key aspect of this effort includes the EPA's authority to support the demand for lower-GWP refrigerants by approving new alternatives per sector-based application guidelines. Industry experts expect the EPA to issue new guidance along these lines in 2022.

Regulating HFC management

 by establishing standards for the management of HFCs in servicing and repair processes, such as: lowering leak rate thresholds and requiring proper recovery of "used" HFCs for purification and resale (aka reclaim). This would allow for an efficient transition from HFCs in accordance with reductions in production and consumption schedules. Previously, the EPA had created Section 608 to govern these best practices, some of which were invalidated per a 2017 court ruling. Industry insiders expect the EPA's revised HFC management rulemaking could build off the Section 608 framework.
Note: Even if the leak repair and maintenance requirements of Section 608 are currently not enforced for HFCs, an effective leak repair and maintenance program is still generally recognized as an industry best practice. Other beneficial provisions of Section 608 — including the certified technician program and the refrigerant recovery and reclamation rules — are still in effect.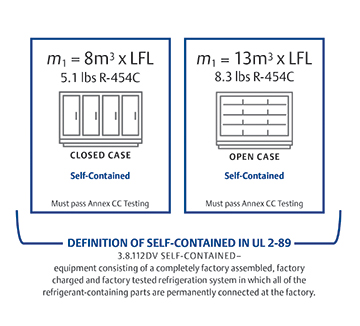 CARB Rulemaking Takes Effect
The California Air Resources Board (CARB) continues to lead the way on the HFC phasedown in the U.S. After several years of collaboration with state and HVACR industry stakeholders, CARB's proposed rulemaking became final in late 2021 and went into effect on Jan. 1, 2022. This rule establishes HFC phasedown requirements for new facilities and includes a company-wide provision for food retailers operating with a fleet of existing stores within California.  
New facilities — Installation of new refrigeration systems containing more than 50 pounds of refrigerant are required to use refrigerants with less than 150 GWP.
Existing facilities — Installation of new systems are subject to company-wide, fleet GWP reduction targets by 2030, as compared to their 2019 baselines. CARB offers two paths to compliance for new systems in existing facilities:
Weighted-average GWP (WAGWP) reduction < 1,400 GWP by 2030, where WAGWP is the sum of the total refrigerant charge of every system greater than 50 pounds in every store in California

Greenhouse gas emissions potential (GHGp) reduction by 55%, where GHGp is the sum of the total refrigerant charge of every system greater than 50 pounds in every store in California multiplied by the GWP values of the refrigerant types in use
In new stationary air conditioning equipment, refrigerants with a GWP greater than or equal to 750 will be prohibited, starting in 2025.
Although the AIM Act permits individual states to create their own environmental regulations — such as those pursued by U.S. Climate Alliance states — many are awaiting federal guidance for the use of refrigerants in commercial refrigeration. Industry organizations — such as the Air-Conditioning, Heating, and Refrigeration Institute (AHRI) and the Natural Resources Defense Council (NRDC) — and stakeholders have asked for states to be consistent in their approaches. Most would prefer that our industry adopt a unified federal approach, rather than managing a patchwork of state-led initiatives. 
Evolving Safety Standards for Flammable A3 and Mildly Flammable A2L Refrigerants
For several years, the governing bodies that regulate the safe use of refrigerants in the U.S. have been evaluating the prospect of increasing charge limits in the flammable A3 refrigerant propane (R-290) and an emerging class of mildly flammable A2L refrigerants. In 2021, the Underwriters Laboratories (UL) approved the second edition of its UL 60335-2-89 standard, which included higher charge limits that would expand the potential uses of R-290 and A2Ls in commercial refrigeration.
R-290 charge limit increases
With a long-held maximum charge limit of 150g, R-290 has primarily been used in smaller, self-contained units that don't need large refrigeration loads. Designing larger-capacity, R-290 based refrigeration equipment has required the use of multiple R-290 based compressors or condensing units.
The updated UL standard raises the charge limits on these commercial stand-alone displays based on whether they have an open or closed design:
500g maximum charge limit in open appliances (without doors)
300g maximum charge limit in closed appliances (with doors or drawers)
From an application design perspective, these higher charge limits will help to increase system capacities while capitalizing on R-290's high efficiency and low-GWP rating (GWP = 3). 
Ensuring the safe use of A2L refrigerants
Mildly flammable A2L refrigerants have also been identified as low-GWP alternatives for complying with emerging refrigerant regulations. Because of their potential flammability, to date A2L refrigerants have been used globally in relatively small refrigeration architectures, such as: self-contained systems, indoor/outdoor condensing units (OCUs) and distributed systems.
Per the recently updated UL 60335-2-89 safety standard, new A2L charge limit guidelines have been established for self-contained and remote refrigeration systems. For self-contained equipment, charge limits are determined on whether equipment is open or has doors or drawers. Degrees of flammability will vary among different A2L refrigerants, so it's important to calculate charge limits based on the specific A2L characteristics.
For example, since R-454C has a lower flammability limit (LFL) of 0.291 kg/m3:
A closed-door case can be charged with up to 2.33 kg (5.1 lbs.) of R-454C. 
An open case with R-454C can be charged with up to 3.78 kg (8.3 lbs.) of R-454C. 
In remote or field-erected systems, UL 60335-2-89 supports R-454C charge sizes up to 75.7 kg (166 lbs.) per circuit. 
Per the UL 60335-2-89 standard, remote A2L systems must be designed with requisite safety strategies and mitigation measures to keep gas concentrations below flammable thresholds. This includes the ability to detect refrigerant leaks at various points of the refrigeration circuit — from the compressor to the condensing unit to the case — and then take immediate action to mitigate flammability risks. In human comfort applications, similar UL standards are also in place.
Safety standard updates set the stage for wider approvals
The UL 60335-2-89 second edition update is only the first step in a larger series of regulatory approvals needed to enable higher charges of R-290 and the use of A2Ls in U.S. commercial refrigeration. 
The following supporting regulatory and policy changes will also need to be approved:
EPA Significant New Alternatives Policy (SNAP) approval of specific A2L refrigerants and increased R-290 charge limits
ASHRAE 15 safety standard update for refrigeration systems
Model code updates in the upcoming code revision cycle, such as: Uniform Mechanical Code (UMC), International Mechanical Code (IMC) and International Fire Code (IFC)
State and local building code updates 
Industry stakeholders are optimistic that the ASHRAE 15 update and EPA SNAP approvals (for at least some A2Ls) will yet take place in 2022. Although the next model code update is planned for 2024, select states have legislated or adopted provisions of the safety standards directly into their building code updates to allow for the use of all EPA-approved substitutes. Thus, our industry could begin to see some A2Ls used in late 2022 or early 2023, with more widespread use expected in 2024. In the meantime, installing an A2L-based refrigeration strategy would typically require the approval of local authorities having jurisdiction (AHJ), such as fire marshals and/or building inspector
Planning for the next generation of refrigeration technology
As the regulatory picture continues to emerge in 2022, stakeholders now have more certainty to make plans for their next-generation refrigeration strategies. At Emerson, we're developing a wide range of refrigeration technologies that will help companies comply with emerging regulations, meet their sustainability objectives, and choose a path forward that aligns with their long-term operational preferences. 
If you're a potential owner or operator of a next-generation refrigeration system, it's important to understand the performance characteristics and safety considerations of these emerging alternative refrigerant technologies. Whether you're evaluating carbon dioxide (R-744), propane (R-290), lower-GWP HFCs or new A2L alternatives, Emerson can help you to select the most optimum technology for your application and your future. 
As always, if new regulatory developments unfold in 2022, Emerson will be here to keep you informed of the implications.  
Jennifer Butsch has been involved in regulatory affairs across multiple industries for more than 16 years. In her current role as Emerson's regulatory affairs director, she is responsible for managing activities related to codes, standards and regulations. She actively participates in several industry organizations, including AHRI and ASHRAE. Jennifer earned a bachelor's degree in biomedical engineering from Wright State University and a master's degree in business administration from the University of Phoenix.