Our team attended the AHR EXPO 2023 in Atlanta in February. To say it was jam-packed with innovation, a noticeable commitment to energy efficiency, and a focus on streamlining both in size and usability –would be an understatement. But after carefully culling through all the info and booth visits, we have narrowed it down to five that we chose to highlight in 2023, for very specific features. Though these weren't the only choices, they were some that we felt deserved a spotlight.
ECI | ThermoGrid Software 
Featured for All-in-One Contractor Software Technology
ThermoGrid is all-in-one contractor software that helps field service professionals take control of their day-to-day. From estimate to invoice, and everything in between, ThermoGrid is a good choice for ease-of-use and contractor-specific operation and for the research ECI has done to get it right. 
Contractors can manage business operations without juggling paperwork. With ThermoGrid, you can connect with customers and leads, match technicians with jobs, and close more business–all from one location. This reduces manual data entry and the mistakes that come with it. By using ThermoGrid Software to help keep track of all estimates, customer communication, job details, inventory, installs, repairs, and invoices in one place, nothing will be missed. ECI puts its money behind the research. You can read from multiple case studies with contractors who have used the software with great results. Not only that, ECI shows KPIs, because it's not only about ease of use, but does it drive business? Yes is the answer according to the ample data and contractor feedback.
According to one study, ThermoGrid helped drive 150% business growth, despite the pandemic – ECI | ThermoGrid, Shafer Heating & Cooling LLC Case Study
With smart dispatching, you can make smart business decisions with data that is always up to date. ThermoGrid daily management reports show you immediately how every department is performing so you can see what is working and, more importantly, what is not working. 
https://resource.ecisolutions.com/c/thermogrid-overview-video?x=D4KxNL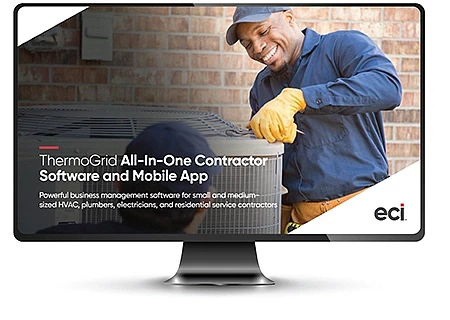 Enlight™ by Lennox
Featured for Heightened Customer Flexibility in Energy-Efficient Products
Lennox is leading the way in innovation with the introduction of the Lennox Rooftop Series composed of Model L, Enlight™, and Xion. The choice to share highlights of Enlight™ was based on its increased flexibility, ease of use, and increased attention to energy efficiency.
Enlight™ rooftop units powered by the Lennox® CORE Control System create a bright future through a highly energy-efficient and environmentally sustainable design. Comprehensive configurations meet a wide range of applications, making it the most flexible product line Lennox has to offer. 
Said Eddie Chavez, Director of Product Management for Lennox Commercial. "Our solutions are the result of partnering with our customers to develop products that meet their needs for energy efficiency, indoor air quality, and serviceability. In addition, our innovative and industry-leading products position them to adapt in an evolving regulatory environment and help meet ESG objectives."
Enlight™ Minimizes Environmental Impact and Maximizes Efficiency
The Enlight™ product line of rooftop units minimizes environmental impact through exceptional efficiency and sustainable design while providing extreme flexibility, engineered intelligence, and simple service. Enlight™ units include the Lennox® CORE Control System, an intuitive rooftop controller that enables real-time data through connectivity, integration, and optimization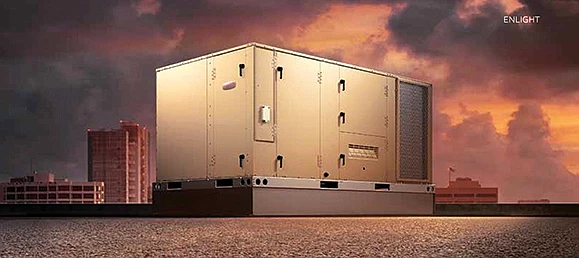 Enlight™ Product Highlights:
• A comprehensive, high-efficiency product line consisting of 3-25 ton gas-electric and electric-electric models and 2-20 ton heat pump and dual fuel heat pump models.
• Energy-saving efficiency ratings of up to 17.8 SEER, 17.0 IEER, and 13.3 EER qualify for energy rebates and incentives.
• Environ™ Coil System with up to 52% less refrigerant and up to 59% lighter than traditional coil systems, reducing overall environmental impact.
• Lennox® CORE Unit Controller uses advanced sensor inputs to optimize the real-time operation and maximize energy efficiency and space comfort.
• Efficient maintenance and service operations that reduce operational costs and minimize downtime.
For more information about the Lennox Enlight™ and Xion™, visit https://www.lennoxcommercial.com.
SpaceLogic Insight-Sensor | Schneider Electric
Featured for Smart Integration & Future-Ready Eco-Comfort
We chose to highlight SpaceLogic Insight-Sensor for its future-forward, eco-friendly design while still allowing for smart integration and very few additional investments. SpaceLogic Insight-Sensor monitors light, sound, ceiling temperature, humidity, occupancy, and people count. It integrates with EcoStruxure™ Building Operation, which responds to changes in room conditions and the number of people in the room, dynamically and accurately, to ensure optimized temperature, humidity, and lighting, as well as fresh air circulation. It also uses that sensor data to help achieve LEED, WELL, and other building certifications.
Not only will you reduce energy waste and create healthy, sustainable, and smart buildings to increase occupant comfort and productivity with SpaceLogic Insight-Sensor, but the ease of integrating this future-ready design is a highlight of Schneider Electric's innovation.
Product Highlights:
• Enables balanced comfort and energy consumption in an efficient way
• Benefit from higher operational and energy efficiency for increased ROI
• Enables demand-driven HVAC based on real-time occupancy level
• Maximize space efficiency by space usage pattern insight
• Enables personalized well-being and comfort based on true occupancy level
• High-rated environmental performance of the product 
https://www.se.com/us/en/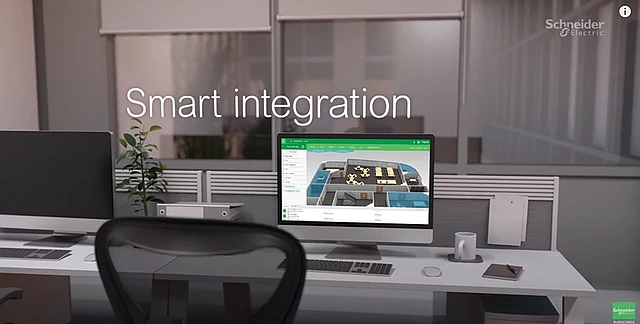 WaterFurnace |The WaterFurnace 7 Series™ & Symphony Platform
Featured for GeoThermal & Energy Data Monitoring Technology
Given that WaterFurnace was one of the first in the GeoThermal space, the WaterFurnace 7 Series™ is quite possibly the most advanced heating and cooling system in the industry. It provides homeowners with the ultimate in comfort and performance and represents the finest in geothermal products. This line is built using the latest technologies and the highest standards.
While other conditioning systems run at one or possibly two speeds (high and low), the 700A11 scales compressor output and airflow to exactly the level needed for any heating or cooling situation. It offers the most highly attuned comfort for the space while keeping with energy efficiency standards.
The 7 Series comes standard with built-in energy and refrigeration monitoring sensors. Customers have access to insight by reviewing monthly, weekly, or daily analyses of their units' energy usage from their thermostats and/or the Symphony platform. No estimates — actual data.
The Symphony Platform is a Wi-Fi-based comfort platform that's unsurpassed in its ease of use, feature set, and level of information it provides. Symphony marries the Aurora controls of a WaterFurnace geothermal system with a WebLink router, giving the customer and contractors access to the comfort system from practically anywhere. Symphony is cloud-based so there's no software to install and provides control over the entire geothermal system-not just the temperature as in other 'smart thermostat' systems. Customers can also benefit from cloud sharing to look at geo-energy monitoring and pricing in their regions, giving actual real-time data on what customers are likely to pay for this energy-efficient system.
https://www.waterfurnace.com/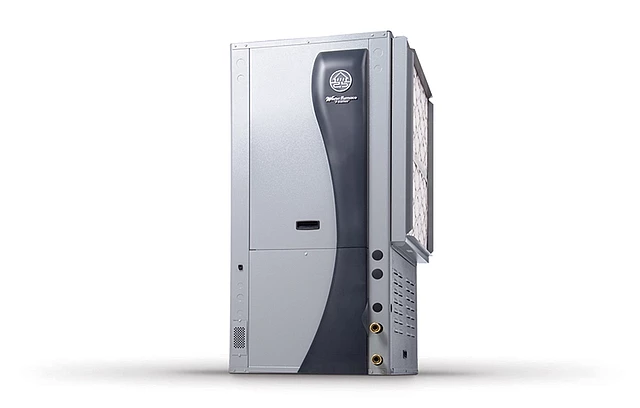 Service Nation | Roundtable Rewards
Featured for Contractor Organization
At AHR Expo 2023, the team spoke with Pete Danielson, Vice President of Market Development at Service Nation – at a very popular exhibitor booth as always. 
Service Nation was created by contractors for contractors in 2002. Still, the most revolutionary organization was founded by a collaboration of leading contractors to share information and help other contractors improve their sales, marketing, operations & profitability, as it continues to evolve. Although the organization could have become complacent, it has continued to show a commitment to growth which is why we chose to highlight it here.
Today, with more than 5,000 members, initiative-taking and adaptability are the foundations of the organization. Also, Service Nation offers different membership levels because they understand not every company is at the same level of growth.
When you first join the organization, you become part of Service Roundtable, the first and still foundational membership level. From there you have an opportunity to learn more about our three Premier Membership levels – Service Nation Alliance, Service Nation Alliance Premier, and Retail Contractor Coalition. 
Roundtable Rewards
We chose to highlight Roundtable Rewards for its profit-by-participation motto that benefits contractors by putting money back in their pockets.
More than 200 contractor-vetted Preferred Partners participate in the Roundtable Rewards buying group. These partners provide rebates on products and services you already use to operate and promote your business – marketing, recruiting, training, equipment, office supplies, vehicles, distributor and so many more. Participation in Roundtable Rewards effectively turns your Service Nation membership into a profit center. Thus far, more than 2 billion dollars have been distributed to members by Partner. Get to know them – you'll profit from the experience in more ways than one.
We have spoken to thousands of contractors over the life of this magazine and Service Nation has changed lives and helped company owners grow. 
Contractors need to be a part of Service Roundtable because the partner companies purchase more than a BILLION dollars annually in goods and services. Through Roundtable Rewards you use that collective buying power to receive rebates and discounts from more than 130 participating vendors. Through the Roundtable Rewards program, you can get substantial rebates and discounts for your purchases. Plus, new partners are being added constantly and each goes through stringent vetting.
Service Roundtable Preferred Partners
Who are these partners? They're companies large and small. Companies that offer everything you need to run a successful business for less:
• Equipment
• Software
• Computers
• Sales Training
• Tools
• Marketing Services
• Office Supplies
https://join.serviceroundtable.com/about/roundtable-rewards/
1 EC) (2021) ECI|ThermoGrid Shafer Heating & Cooling LLC Case Study
https://resource.ecisolutions.com/c/thermogrid_testimoni?x=D4KxNL#page=1