The HVACR field is an aging field, albeit an evolving one. As with any evolution, there are growing pains. But there is also a newness and excitement to the changes. 
Post-pandemic --- a busy period but one of imposed stasis while people hunkered down indoors --- it seems that the industry not only picked up steam but is functioning at warp speed. With tech trends, sustainability growth, and regulatory changes all expected in 2023, and even changes with in-person training moving to virtual, HVACR owners are having to adapt quickly. 
After some research, I have whittled down the following list to the most pressing trends and changes being buzzed about in 2023. Having spoken to many HVACR owners, the consensus is that the evolution is here and the need to advance to GPS software, advanced IT and security systems, and mobile tech for service calls, as well as updated CSR and HR systems, has become necessary to stay competitive. 
What Should HVACR Owners Expect in 2023?
As we near the end of a busy year, I thought it fitting to look ahead and forecast some of the top tech, energy, and software trends that you can expect in 2023.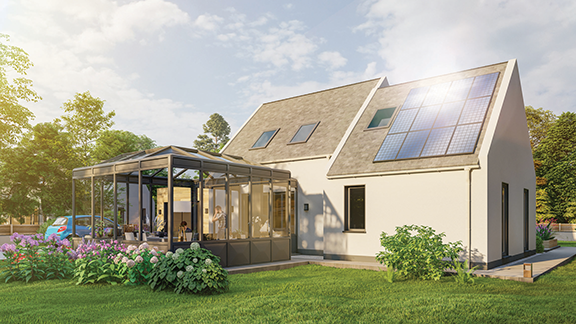 1. Green Building, Heating & Cooling Alternatives
If you are an HVACR owner (doing work with commercial customers especially) you might want to pay attention. As we roll into 2023, prepare for more builders to expect "green" systems. Your team will need to be highly trained, and your inventory/vendors will need to be aligned to adapt – particularly if you are a small family business that is run in an old-school fashion. While there is nothing wrong with being a small mom-and-pop catering to locals, even for you, things will shift. With regulatory changes and more builders catering to consumer demand, green building is no longer reserved for "big corporate". So, if you plan to stay competitive in the next ten years, now would be the time to make changes. More and more new properties are being built with eco-friendly designs, to use minimal energy for heating and cooling. Insulation is no longer enough. According to KGG Consulting, Green builders must work directly with HVACR system installers to achieve the "green" goal. KGG explains how this will impact materials and coordination between builders and HVAC systems installers, in an article titled, What is the Role of an HVAC System in Green Buildings?
---
To build more environmentally sustainable, builders should prioritize the role of the HVAC system in green buildings [whether]…upgrading or replacing an old inefficient system with a modern green model, will result in major savings. The energy-efficient theme is evident in HVAC trends for sustainable buildings… More sustainable HVAC systems, such as solar or wind power, are becoming increasingly popular. To keep HVAC equipment operating expenses low, utilize renewable resources. 
---
And says KGG…
Here are several current HVAC trends that green builders should be aware of:
    •    Mini-Split Systems
    •    Variable Speed HVAC Systems
    •    Heat Recovery Ventilation
    •    Thermal-Driven Air Conditioning
    •    Ice-Powered Air Conditioning
    •    Recycled Quiet Duct Wrap
    •    Geothermal Heat Pumps
This leads to the next change coming in 2023, and this one isn't voluntary – it's the regulatory changes taking effect in 2023.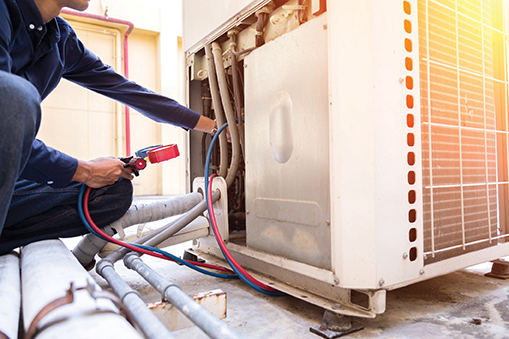 2. Energy & Regulatory Changes in 2023
Heating Efficiency
Federal regulatory changes are taking effect in 2023 and they will impact HVACR manufacturers and owners. The minimum rating for heating efficiency will increase for air-source heat pumps. The heating seasonal performance factor (HSPF) is moving from a required 8.2 to 8.8.
There are some caveats, and regulatory effects do vary statewide so be sure to do your research. But the federal government is imposing these mandates starting in January 2023. However, the government will not require you to replace older heat pumps or air conditioners when the minimums become the federal standard. Any 13 SEER models will no longer be allowed – be sure to adapt when doing 2023 inventory forecasting. Your new equipment must be rated 14 SEER (Seasonal Energy Efficiency Ratio) at a minimum – it is 15 SEER in some states. Also, any new heat pumps must adhere to the HSPF rating of 8.8. Check with the U.S. Dept. of Energy for more information.
Until this change is mandated, the efficiency baseline remains 13 SEER for heat pumps and air conditioners installed in homes in the northern half of the U.S. and 14 SEER for equipment in the southern states.
But in a few months, the minimum standard will be 14 SEER for northern states and 15 SEER for southern states.
Refrigerants
Changes also impact the kind of refrigerants manufacturers will use in new air conditioners and heat pumps. Due to global concerns and a move toward creating climate change initiatives, R-410a, a hydrofluorocarbon (HFC), will be eliminated or phased out. This refrigerant has been found to have a harmful environmental effect if it leaks. The EPA has announced a phase-down directive on the manufacturing and import of HFCs by 85 percent over the next 15 years.
How does this impact your company?
Starting in 2023, new cooling systems will contain a refrigerant with a lower global warming potential. Several manufacturers have announced plans to build heat pumps and air conditioners compatible with the new R-454b. R-454b is more environmentally friendly. But again, there are some drawbacks, R454b is mildly flammable. The best approach is to stay informed. Knowledge is power. Make sure to train all your technicians on the changes.
Although R-410a will still be available for equipment repairs during the phase-down, new air conditioners and heat pumps will not contain R-410a beginning next year.
Manufacturers will begin to roll out their new products. So, again, if you are budgeting and forecasting for 2023, keep this in mind. 
In addition to Smart Home Systems, sustainability concerns, and a focus on IAQ, there will be increased consumer demand for the following:
    •    Solar-powered HVAC systems 
    •    Variable speed compressors 
    •    Inverter air conditioners 
    •    Geothermal heat pumps 
    •    Sensor-enhanced vents for IAQ
    •    Motion-activated A/C Units
See our latest product page and industry news and product focus both in the issue and online. Also, be sure to subscribe to our monthly Ahead of the Curve newsletter, where we issue product releases and company updates on all the latest.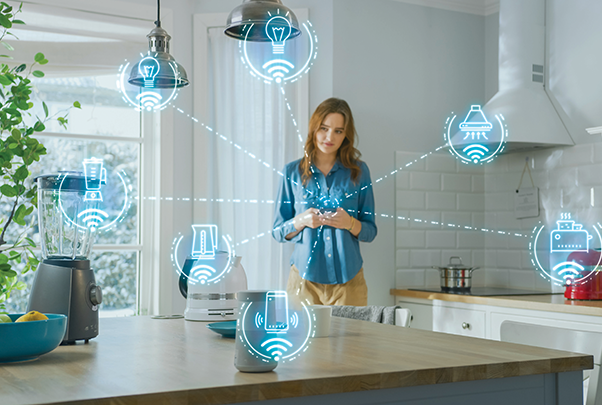 3. Increased Consumer Demand for Smart Home Systems 
Smart home systems have been a giant trend for homeowners this past year. These are all-encompassing "smart" heating and cooling systems – not simply just the thermostats – and they allow homeowners (and commercial property owners) to integrate their HVACR technology with most of the other functionality throughout the home. An example, a homeowner can adjust a thermostat temperature via remote or voice remote. But since smart home systems are in demand, the better option is an entire home system.  So, most companies now suggest and offer entire home systems. An entire home system fits into your life and works with your current appliances. As an example, you may be able to control your thermostat from your smartphone or get an early warning of leaks. The suite of products means you can take control, wherever you are.
What does this mean for you, the HVACR owner?
Potentially, this increased demand by consumers for the installation of smart home systems could mean an increase in profitability. But that may also mean an initial investment both in supplies and in training. Because increased smart systems will lead to increased preventive maintenance. Tip: After any smart system upgrade, be sure to sign up customers for preventative maintenance contracts.
    4. High Tech GPS, Mobile Communication, Apps, and CSR
With a move to everything "smart" controlled, customers will expect more advanced field service both at the in-home appointments and in between – this includes all communication. If customers are becoming more inclined to immediate accessibility in their daily lives, they will have higher expectations regarding customer service and field service communication. A move to mobile communication, automated text alerts, apps, and GPS will be necessary. Advanced GPS is essential to integrate communication between the customer, the field technician, and even the sales and product managers. See our article by Kevin Aries in the June issue.
    5. Virtual Reality (VR) & Remote Training for HVACR Pros 
The HVACR workforce is dwindling as more owners and skilled trades workers retire. Not a new issue, in the post-pandemic era where everything became remote, the industry had to discover new ways to train – VR, Remote, and Hybrid have grown in demand. While most of us don't believe there is any suitable substitution for on-the-job training and in-the-field training, there may need to be a middle-ground compromise here, as more manufacturers and companies are offering Virtual Reality training and remote learning. According to the U.S. Bureau of Labor Statistics, the 2016-2026 job outlook for HVAC technicians is expected to grow 15%, more than three times as fast as the average 4% growth rate of all occupations. Yet, the pool of qualified labor is not expected to keep pace. We have recently reported on several companies offering online classes, troubleshooting, and actual training.   
Virtual reality training 
Virtual reality training is a nice substitute for remote instruction because it simulates the on-site experience. It allows technicians to practice in real-life field scenarios. This also allows technicians some autonomy while learning as they can work on equipment without instructor oversight or potential "real-world" problems. In addition to training, it can be used in a hybrid way, before or during the onboarding process to refresh a technician's skills before embarking on a complicated job. Again, while there is no substitute for real-world training, to attract young people to the field, a generation largely raised on YouTube, the industry must adapt and companies are taking note.
Remote training 
Trade associations are offering digital learning opportunities that technicians can access remotely. This does not simulate real life but does allow for training with an instructor regardless of location. It is a good way to attract potential technicians and offer credit and training updates. It is also valuable to companies because one training, with one instructor, can accommodate several hundred students. An increase in income, without the cost of location, personnel, and overhead. You may need to invest in software, but it's a minimal cost compared to sending a recruit to a school or having to run an event to recruit and train. It's also easier to market online. You aren't restricted to location so one social media post can attract hundreds or thousands of interested candidates. Also, a remote session can be saved as a webinar to view later, so techs can log in from any location, at their own pace, and based on their schedule. Again, this has training benefits internally as well. It can be required viewing for all new techs or to refresh skills, without having to bring in more personnel or take time away from service calls.
In the coming months, we will be talking to more HVACR pros, launching our 2023 spotlight series focused on some of the giants in the industry, and talking about more trends and products you can expect this year. 
Feel free to let us know what you'd like to see more of in the future – i.e., trends, spotlights, or more product information.
Heather Langone is Managing Editor at HVACR Business Magazine. To send comments and inquiries please email hlangone@hvacrbusiness.com
Footnotes: 
1. Ambrosetti, 2022, https://kggconsulting.com/article/construction/what-is-the-role-of-an-hvac-system-in-greenbuildings/
2. https://www.energy.gov/
3. HVACR Product Page, https://www.hvacrbusiness.com/news/products/
4. AOTC Newsletter, https://www.hvacrbusiness.com/eNewsletters/
5. Aries, 2022, https://www.hvacrbusiness.com/news/2022/jun/01/the-benefi ts-of-integrated-fl eetmanagement-technology/