Malco Products, SBC, Opens Nominations for 2022 HVAC Trade-Pro of the Year 
March 3, 2022 - Five top U.S. HVAC professionals will be honored with national recognition, $1,000 in tools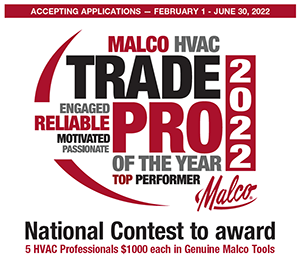 Malco Products, SBC, one of the nation's leading manufacturers of high-quality, American-made tools for the HVAC trade (Heating, Ventilation and Air Conditioning), is now accepting nominations for its annual HVAC Trade-Pro of the Year Award program. This is the sixth year of the national contest.
The HVAC Trade-Pro of the Year Award recognizes and celebrates outstanding, experienced HVAC technicians who are dedicated to the industry and on-the-job safety, as well as giving back to their communities. Winners will be selected based on professional achievement, safety excellence and community contribution. 
The five winners will receive $1,000 worth of Malco tools of their choosing, and all qualifying trade professionals who are nominated will receive a Malco cap and pair of gloves.
"Skilled technicians who are building successful and smart careers by serving their customers and communities are making a difference across the country," said Malco president and CEO Rich Benninghoff. "We are pleased to once again recognize these hard-working HVAC professionals with this year's HVAC Trade-Pro of the Year award."
Nominate yourself, or another technician who has made a difference in your community, for the award at www.malcoproducts.com/hvac-trade-pro-of-the-year-2022. Entries will be accepted until June 30, 2022, and winners will be announced in September 2022.
As a strong supporter and advocate of careers in the trades, Malco donates significant quantities of in-kind products and apparel annually to a variety of skilled trade education programs, competitions and events across the country, including high school, post-secondary technical and apprenticeship programs, regional apprenticeship contests and SkillsUSA state and national conferences. Malco also coordinates the "Head of the Class" Student Recognition Program that partners with education programs across the country to recognize high-achieving students and entire graduating classes in the HVAC/sheet metal, building construction and autobody repair fields. 
For more information about Malco Products, SBC, visit www.malcoproducts.com.