One of the hardest hit areas of COVID-19 cases has been New York City and the surrounding area. Carmine Galletta, owner of GallettAir Inc. in West Babylon on Long Island, has had to adjust to a new normal when it comes to doing business.
Like many business owners, Galletta has had to cut back on the amount of people in his office — but he has not let anyone go and has not reduced anyone's pay. He applied for a Paycheck Protection Program loan but has yet to see any money.
The office is down to a team of about four, all separated by cubicles and wearing masks, with many answering calls from home and working on laptops. Technicians are dispatched from their homes each day, coming in twice a week to restock their vehicles with parts.
"We sanitize every day … we clean everything," Galletta says. "I'm trying to keep the number of people reporting to the office at a minimum."
GallettAir has been proactive on its social media channels, communicating to its more than 20,000 service contract customers. The message is clear: GallettAir employees are healthy, they get their temperature taken every day and, if they feel even slightly sick, they don't come in to work.
"When customers call for service, we also ask if there's been anyone sick in their homes," Galletta says. "We make sure they know, when we come to their home, we wear masks, gloves and shoe covers … that's the protocol now."
To limit exposure for his team, Galletta admits that they've been postponing many of the scheduled maintenance appointments this spring.
"We explain to our customers, if they have a problem with their system, we'll come service it," he says. "But, we're not going to risk our guys to go out and simply do basic maintenance or change a filter. The less exposure we have, the better off we are for everyone."
Always one to look out for his community, Galletta decided to use his time and resources for good. Hearing about the shortage of PPE and N95 masks and seeing how some people were spraying disinfectant to sanitize them for reuse, he decided to act.
"I knew that couldn't be good … it would definitely compromise the masks," he says. "I did some research, went into my garage and built a sanitizing box with a UVC light."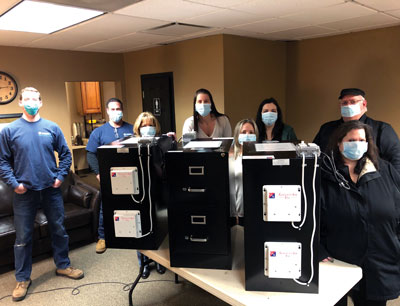 Having used UVC lights in filtration systems for the last 25 years, Galletta was familiar with how they worked and how effective they would be for sanitizing PPE. He ordered 150 UVC lights from his supplier.
"Initially, we made a small box to sit on a desk; which my son helped fabricate in his friend's shop," Galletta says. "Then we came up with the idea of using a two-drawer office file cabinet and outfitting it with the UVC lights, a GFI and threaded rods across each drawer."
Each UVC file cabinet box can hold about 16 N95 masks and takes about eight to 10 minutes to completely sanitize. In addition, Galletta says they designed the top drawer so that it can hold cell phones, wallets and other small items to be sanitized.
Aside from the few he's kept for GallettAir's own use, Galletta has donated all of these units to local fire and police stations, townships and doctor's offices.
"At times you have to put yourself out there for the greater good of others," Galletta says. "If every person who had an idea that could potentially help in extreme conditions such as we are in now abandoned it due to fear, then technology, inventions and cures would not exist.
"This is about helping others, not about capitalizing on a bad situation. It's the old-fashioned American way," he continues. "Helping our fellow Americans conquer a common adversary. In this case, one we cannot see."