I just returned from a trip to Oklahoma. In all my years of traveling the country, meeting contractors, I'd never had the pleasure of visiting the Sooner State until now.
What I knew about the state prior to this visit was limited. Sure, I'd gotten to know a couple of excellent contractors the past few years — Chris Hunter, owner of Hunter Super Techs, has become a valuable resource for me; and recently I met Darryl Robinson, owner of Robinson Air, who provided me with a lot of great insight into his business.
Other than those two fine gentlemen, the best thing about Oklahoma in my mind was my Cleveland Browns' starting quarterback Baker Mayfield — our first round draft pick last year who is poised to bring the Browns back to glory.
And, thanks to Mayfield, I learned there is now a strong Browns fan base in Oklahoma. I felt right at home during my short visit these past couple of days.
As I drove down I-35 from Oklahoma City to Norman, Okla., I saw perched along the highway the massive structure that was the reason for my visit: Johnson Controls' new, state-of-the-art Rooftop Center of Excellence.
As the flagship location for industry research, manufacturing and testing of Johnson Controls HVAC rooftop units, the 900,000-square-foot facility includes nearly 400,000 square-feet of incremental laboratory and manufacturing space, as well as renovations to more than 150,000 square-feet of office and meeting space.
Prior to the grand opening ceremonies and ribbon cutting, which included local and state dignitaries, as well as a visit from Oklahoma Governor Kevin Stitt, I had an opportunity to sit down with some of the leadership from Johnson Controls that made this expansion possible.
For more than 50 years, Johnson Controls has been a part of the Norman, Okla. community and this new expansion ensures they'll be there for at least another 50. The working partnership they have with both Oklahoma University and Oklahoma State University brings an unmatched level of engineering talent to the company.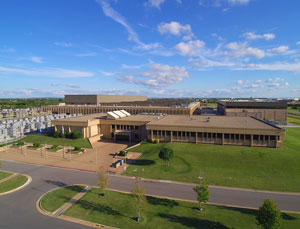 In addition, the expansion has created more than 350 new jobs right here in the U.S.
Vicki Davis, plant manager, grew up at the facility. Her mother still works there on the line and she told me she'd first stepped foot in the plant when she was about 2 years old. Vicki has been a part of the Johnson Controls family in Norman all her life and was an integral part of making this expansion happen.
Three years ago, Liz Haggerty, vice president and general manager of global ducted systems, and Matthew Shaub, vice president and general manager of commercial ducted systems, identified a need for a new, larger testing and manufacturing facility for commercial rooftop units — and they wanted it in Norman.
"We are planning for growth for the future," Haggerty told me. "When we looked at our ability to service the customer, we felt we had an advantage here with regard to logistics as well as our engineering and manufacturing already in place."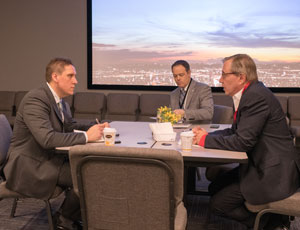 Together, they went to Bill Jackson, vice president of Johnson Controls and president of global products, with a plan. It was an aggressive plan — and an expensive one — but Jackson agreed there was a need and committed to making it happen.
"This is a U.S. based product and we have a highly capable labor force here," Jackson said. "In addition, this allows us to expand our training capabilities in this new, state-of-the-art facility."
Among the innovations I saw while I toured the facility is a two-story, 52-foot high lab that allows Johnson Controls engineers to test 150 ton rooftop units in a down flow configuration, in climates ranging from -30F to 130F.
The technology they've put into this facility is impressive. Johnson Controls has added extensive laboratory, modeling and simulation tools to offer an environment to conduct complex development, regulatory compliance, performance, safety and reliability testing.
"When you look at product development, we've expanded our testing capability here by about 250 percent," Shaub said. "It really allows us to get our products to market much quicker."
Everything about this new center of excellence is focused on the future. The future of the industry, the future of testing, the future of the customer and the future of growth.
As I waited for my flight out of Will Rogers World Airport, I thought of a famous quote by the famous Oklahoman that sums up exactly what Johnson Controls is doing: "Never let yesterday use up too much of today."