Uniweld Releases New HVACR & Plumbing Equipment Catalog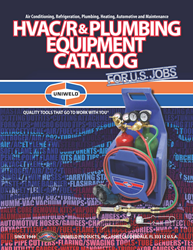 FORT LAUDERDALE, Fla. — Uniweld Products, Inc. has completed and officially released an all new HVACR & Plumbing Equipment Catalog. The all new catalog is color coded and easy to navigate with new products, more information than ever before and more than 100 pages.
This catalog provides detailed information on a full range of Uniweld flame tools for HVACR, plumbing, automotive and industrial maintenance professionals. When deciding on what flame tools are needed for your particular job application, it's a good idea to determine, if it will be used specifically for welding or cutting steel, soldering or brazing copper tubing or if it should be a multi-purpose outfit. Uniweld provides the basic industry definitions for the above applications to help users decide what flame tools will be required to get the job done efficiently.
For additional information, visit www.uniweld.com.